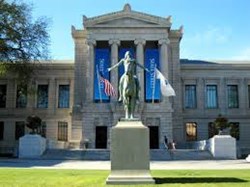 Boston, MA (PRWEB) December 19, 2013
The top Boston attractions include several wonderful art museums covering a variety of artistic styles. Whether an art enthusiast prefers contemporary art, ancient art or anything in between, the top Boston art museums will surely have something of interest. Conveniently located, The Boston Park Plaza Hotel – A Boston Hotel is the perfect choice for those who come to explore the top art museums and other popular Boston attractions. View offer details >
Museum of Fine Art
Where: 465 Huntington Avenue Boston, MA 02115
Call: 617-267-9300
This Boston attraction is home to more than 450,000 objects. A few highlights are a Sons of Liberty Bowl crafted by Paul Revere in 1768, a perfume bottle from 664-525 B.C. and a wonderful collection of works by Monet, Rembrandt and other masters.
Isabella Stewart Gardner Museum
Where: 280 The Fenway Boston, MA 02115
Call: 617-566-1401
The namesake of this museum left the money to run it along with her extensive personal art collection. Visitors can enjoy the beautiful courtyard surrounded by galleries filled with the museum's treasures.
Harvard Art Museums
Where: 32 Quincy Street Boston, MA 02138
Call: 617-495-9400
Not surprisingly, the Harvard Art Museums are as much a research center as a place to view art. Currently closed for the final phase of a renovation project, this Boston Attraction will reopen in 2014.
Institute of Contemporary Art
Where: 100 Northern Avenue Boston, MA 02210
Call: 617-478-3100
In addition to an impressive permanent collection, the Institute of Contemporary Art hosts cutting edge temporary exhibits. Currently they have Amy Sillman: One Lump or two which will run through January 5, 2014.
Top Boston Hotels like The Boston Park Plaza Hotel & Towers offer quick and easy access to many of the best Boston attractions including the museums, historic sites and much more.
About The Boston Park Plaza Hotel - A Boston Hotel:
The Boston Park Plaza Hotel & Towers is part of the rich history that defines Boston as one of the most beautiful cities in America and a top travel destination. This historic Boston Hotel is located in Back Bay, one of the most beautiful areas of the city – just yards from Boston Common, America's oldest public park.
The Boston Park Plaza Hotel – A Boston Hotel conveys class and elegance throughout its exceptional concierge and guest services, 1,053 finely-appointed guest rooms and guest suites, premier dining with 8 on-site Boston restaurants including Melting Pot and the Statler's Lounge. Other guest services include a 24-hour fitness center, 24-hour business center, and 65,000 square-feet of exceptional Boston meeting space.
Visit the Boston Park Plaza Hotel Website.
For interesting Boston Travel Articles visit the Boston Park Plaza Hotel Travel Blog.
Visiting Boston? Consider The Boston Park Plaza Hotel - Check rates, make reservations or call toll free: 800.225.2008.