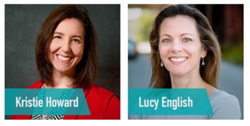 Kristie Howard has joined the company as Director of Consulting Services along with Lucy English, Ph.D., as VP of Research and Science.
BOSTON (PRWEB) January 30, 2019
meQuilibrium, the leading human capital solution grounded in the science of resilience, announced two new hires as part of a continued effort to deepen its bench strength. Kristie Howard has joined the company as Director of Consulting Services along with Lucy English, Ph.D., as VP of Research and Science. Howard will partner with clients to identify opportunities to improve employee resilience and organizational agility as they deploy the meQuilibrium product suite. English brings her expertise in socio-behavioral research to further expand the company's strong, validated science and data foundation.
"We're delighted to leverage the expertise of Kristie Howard and Lucy English," said Jan Bruce, Co-Founder and CEO of meQuilibrium. "Kristie will help us support clients with services that surround our software with additional value and ROI, and Lucy will help us expand our expertise and market awareness."
Kristie Howard has over 20 years of experience in employee benefits and corporate well-being, helping employers design and execute strategies to meet business and human capital management objectives. Prior to joining meQuilibrium, Kristie was a Principal and Senior Consultant with Mercer, a leading global human resources consulting firm. She was responsible for developing and managing client relationships, providing strategic advice and orchestrating the delivery of a broad range of specialized Mercer services.
Lucy English has 15 years of experience helping major employers create people strategies to meet business goals and become employers of choice. She conducts research on how to best support employees to be successful at work and in life outside of work. She serves as an advisor on human capital management strategy across industries with major national and multi-national employers. Prior to coming to meQuilibrium, Dr. English was a consultant with Horizons Workforce Consulting and a Sociology professor at Moravian College where she was granted tenure in 2002.
English and Howard join meQuilibrium following several significant milestones for the company. In August, the company announced $7 million in Series C funding led by HLM Venture Partners of Boston with participation from current investors Chrysalis Ventures and Safeguard Scientifics. The company recently announced the development of a next generation cognitive solution platform as part of its continued transformation across the human capital management category. The expanded platform will leverage the data and advanced people analytics capabilities of the current platform to incorporate talent optimization, soft skill and upskill development. The company also recently announced the appointment of a new chief marketing officer (CMO).
About meQuilibrium
meQuilibrium is the engagement, performance and human capital solution that harnesses behavioral psychology, AI, predictive analytics and neuroscience to help innovative businesses build workforce potential. By unlocking the power of resilient people and teams, our customers more successfully navigate even the most turbulent of times. Powered by predictive meQ scores and data-driven insights, our solution uses clinically-validated assessment and robust benchmarking to measure resilience and create personalized training programs that build team and employee skills. With meQuilibrium, companies can equip each employees to discover and master skills they need to overcome any obstacle, increase agility, gain adaptive capacity, and transform the organization. Learn more at http://www.meQuilibrium.com.
Media contact:
Pam Boiros at meQuilibrium
617-916-1262 x245
Pam.Boiros(at)meQuilibrium(dot)com