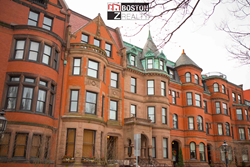 We are dedicated to hiring only the most efficient and committed agents, with the aim of providing the best service to their clients.
Boston, MA (PRWEB) February 25, 2014
Boston Z Realty, a boutique real estate brokerage in the heart of Back Bay, has announced that Sirlei Pacheco, Joey Hasson, Marc Ostravsky, Leah Mushi, and Melissa Deutsch have joined the brokerage as real estate agents. The company has recently moved locations and is in the process of expanding their team of experts in order to be of better service to their clients. All 5 of these agents have extensive real estate experience supporting buyers, sellers, landlords and renters in the Greater Boston area.
Originally from South America, and fluent in both English and Portuguese, Sirlei Pacheco earned her degree in Commercial Studies while living in Brazil. Pacheco believes that in order to help a client find what they are looking for, she needs to see things from their perspective. "As an agent, I make sure to take the time to understand all aspects of my client's search, such as their hobbies and social needs, so that I can help them find the perfect place to support their needs," says Pacheco of the strengths she will bring to Boston Z Realty.
Joey Hasson, a Boston native, earned his BA in History and Middle Eastern Studies from Binghamton University and then became a licensed New York State real estate salesperson in 2010 before moving back to Boston. He has also worked for NY Habitat where he gained valuable experience advising a large international client base. These skills have helped Hasson transition smoothly into the Boston real estate market, where his nurturing personality and strong commitment to clients stand out. In addition to English, Hasson is also fluent in Hebrew.
Licensed since 1983, Marc Ostravsky brings a wealth of residential and commercial experience to Boston Z Realty, in addition to home construction and project management. Ostravsky has received multiple awards for high-level real estate sales performance in his past, an honor that he attributes to his exceptional work ethic and industry knowledge. Ostravsky originally hails from Philadelphia, where he left to pursue a degree at Brandeis University. He found that he loved Boston, and after earning both a BA in Greek and Latin, and an MA in secondary English, he decided to come back to the city again to pursue his true passion: Real Estate.
Melissa Deutsch, although recently hired by Boston Z Realty, is not a new-comer to real estate. With a BA in Fine Arts from Hofstra, Deutsch has been working in the industry since college. She brings both sales and rental experience to the brokerage and is licensed in Massachusetts and New York.
Leah Mushi was recruited to Boston Z Realty after achieving "Top Agent" status in her previous brokerage. She has thrived since joining the company and relates especially to the team environment at BZR. She enjoys competition and is excited about the opportunity to pursue "Top Agent" status in her new home, especially considering the wealth of talent and worthy competitors that can be found at Boston Z Realty.
Boston Z Realty President and Broker, Dillon Currier, expressed his excitement to work with these new agents. "We are dedicated to hiring only the most efficient and committed agents, with the aim of providing the best service to their clients", stated Currier. "I feel that Melissa, Joey, Marc, Leah and Sirlei embody what our company values and I look forward to the success that lies ahead of them."
Boston Z Realty was formed in 2012 by Dillon Currier and Wendy Heyman, and focuses primarily on residential home sales and rentals in Boston and the surrounding areas. Their motto, "Leaders with Integrity" is affirmed with their dedicated agents and staff and the superior service, quality, and ethics offered to their clients. For more information about Boston Z Realty, call (617) 262-2224, or visit them at http://www.BostonZRealty.com.