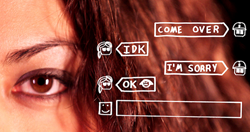 E-Fame's catchy chorus line and use of the piano and beat machine is similar to the hip-hop folk, and blues laced sound of songwriter and performer, Citizen Cope.
Boston, MA (PRWEB) December 30, 2013
McElroy Films LLC announces the release of their latest music video from, Chris Evans a.k.a E-FAME, featuring his hit single "D.W.Y.T." ("Don't Waste Your Time On It"). The aspiring hip-hop artist was born and raised in Boston, MA. Wanting to use a reputable Boston based video production company, E-Fame sought the help of video production company McElroy Films.
Working closely with McElroy Films' founder and Executive Producer, Benjamin McElroy, Senior Editor and Executive Producer, Evan T. Perry, and Staff Editor for Weddings videos and Corporate videos, Mark DerHovanessian, E-Fame created an edgy visual that reflects his quirky yet relatable rap lyrics. The artist's rhymes are a catchy mix of witty insights into love and life. McElroy Film's compliments the animated artists versus with interesting graphic overlays, camera angles, and transitions. McElroy notes on the video concept saying that "we wanted to make a video that people wouldn't expect to see. Without any over the top bells and whistles, the video is still sexy, fun, and cool and fits with the tone of the song." Whether they are directing or producing a commercial, interview, or music video, McElroy and his team focus on collaborating with clients to create remarkable content that drives SEO and invites people to take notice.
E-Fame's subject matter and technical ability in "D.W.Y.T" is a refreshing break from Boston hip-hop artist's typical gritty bass heavy beats. E-Fame's catchy chorus line and use of the piano and beat machine is similar to the hip-hop and folky/blues laced sounds of songwriter and performer, Citizen Cope. E-Fame's musical sound is a mix of hip-hop, folk, and jazz with a twist. Listeners can look forward to E-Fame's rhythmic use of the tick tock from a clock, which adds yet another layer to the already dynamic sound.
Even though the team at McElroy Films has spent the past few years focusing on their work with corporate clients , non-profits, schools, and other businesses, to produce content ranging from overview videos, product demonstration videos, conference footage, commercials, 360 product videos, demo reels, and other SEO driving video content, McElroy, Perry, and DerHovanessian's videography, editing, and producing still artfully reflects the same contagious enthusiasm as the young hip artist's debut single "D.W.Y.T.."
Check him out on Twitter at EFAME_617
ABout McElroy Films
McElroy Films LLC is an award-winning producer of high definition video for corporate, educational, non-profit, wedding, music video, and independent film use. Serving the Massachusetts and New England area, McElroy Films' mission is to keep high definition video affordable without sacrificing quality. McElroy Films has assisted organizations throughout the Boston area increase their revenues and awareness by drawing in new clients and educating existing ones with concise, effective videos for the web and broadcast.