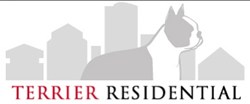 It is our goal to provide online users with a hassle-free real estate experience from the very start.
Boston, MA (PRWEB) August 08, 2013
The Boston Realtors from Terrier Residential have been helping buyers, sellers, and renters with their unique real estate transactions in the metropolis for years. Whether you are trying to sell Brookline real estate or are considering investing in one of the exceptional South End condos, they can assist you with your needs. Having built a professional relationship based on trust and their expertise in the industry, Terrier Residential are now making themselves more available through their online presence at http://www.terrierre.com. With the launch of their new website, this group of professionals aims to make home buying and selling a breeze for their clients.
Specializing in a wide array of real estate including Boston condos, single-family residences, and rental properties, Terrier Residential's website serves as a one-stop shop for online users interested in the Boston area. "We have made our website as user-friendly as possible," shares Realtor Michael Sylvia. "From the MLS Quick Search option to Market Updates, it is our goal to provide online users with a hassle-free real estate experience from the very start." Ensuring a smooth closing for both buyers and sellers, the property specialists from Terrier Residential are committed to client satisfaction.
Whether clients are interested in the Back Bay real estate or Charlestown real estate market, they will be able to learn all about the various investment opportunities in Boston by visiting Terrier Residential's comprehensive website. "It is without question..." says Michael Sylvia, "Boston is a great city to come home to whether you are single or raising a family. And with the variety of property choices and the charming communities, you'll feel right at home here."
Learn more about Boston and its exceptional communities by getting in touch with Terrier Residential and visiting their newly launched website, http://www.terrierre.com.