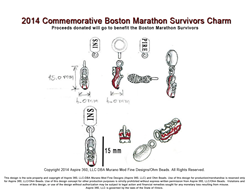 Chicago, IL (PRWEB) March 18, 2014
Murano Mod Fine Designs launched in 2013 and began creating an initial line of bridal themed European-style charms. The company began working on the current Boston survivors charm project, A Charmed Cause for Boston to highlight the continued financial needs of the survivors and their families through a creative process and by offering a unique product. The purpose of this current charm design project is to both commemorate the survivors, the first responders and citizen heroes who stepped up to provide aid and assistance in the wake of last year's tragedy, and to raise additional funds for the survivors who suffered permanent injuries and amputations which will result in further medical expenses for general care and prosthetic replacement for years to come. The charm design encompasses a five-fold meaning that represents and commemorates the survivors, first responders, the victims we lost and honor, runners and marathoners and the citizens and city of Boston. The motto of this charm is to "Inspire Boston Strong."
Purchasers of the charm will receive a high quality sterling silver charm that is compatible with most other European-style modular bracelet systems. More than 45% of the proceeds of each charm sale will be donated to benefit the survivors of the 2013 Boston Marathon tragedy. Complete information about the charm, the design concept, the purpose behind the crowd sourcing campaign initiative, as well as a full description of the five-fold meaning of the charm can be found on both the Indiegogo campaign page, as well at the Murano Mod Official 2014 Commemorative Boston Marathon Surviors Charm web page. Visitors to the campaign page are highly encouraged to read the entire campaign narrative as well as the updates to the campaign.
The Indiegogo.com campaign is a fixed funding campaign, meaning that if the funding goal is not met within the established time frame, all campaign contributors will receive a refund of monies paid for the charm pledge. If the funding goal of $8,500 is met or exceeded by April 12, 2014, the charm will go to final production. Once the Indiegogo campaign ends, future pre-orders of the charm can be made on the Murano Mod Fine Designs website. The production process from silver mold completion to batch production, polishing and hand painting of the finished product will take approximately eight to ten weeks. Purchasers who pre-order the charm can expect release and shipment by mid to late June 2014.
Murano Mod Fine Designs is a DBA of Aspire 360, LLC. Sketch and image copyrights belong solely to Aspire 360, LLC. Production of this charm design will be completed by Ohm Beads. Neither Aspire 360, LLC nor Ohm Beads are affiliated in any direct way with the Boston Marathon, any official funding organization that represents the survivors or receives donations on their behalf, or any of the survivors or their families. For more information or inquiries, please contact the company at (847) 293-4807.