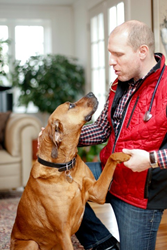 Depending on the pet's needs, I also look past their current condition and work towards preventative measures. I am working to put myself out of business!
Boston, MA (PRWEB) May 06, 2014
Tired after a long day of seeing patients, Dr. Bourquin was reaching for his last file to update before he left for home. It was 10:00 pm. Days that lasted this long were rare and usually included multiple emergencies and work-ups. As he reached for that file, he saw there were one more pile behind it, with 10 more files! It was only then that he realized he saw over 30 clients in that one day. "I didn't even remember seeing some patients, let alone recall the finer details of the exam," said Dr. Bourquin. "That was the turning point for me."
In November of 2012, Dr. Brian Bourquin left his job as a veterinarian at a corporate-owned clinic to start a different type of veterinary business, one that provided a more personal touch for his clients and exceptional, personalized care for his patients. Instead of a traditional building or a mobile clinic, Dr. Bourquin started offering in-home calls to pet owners who wanted comprehensive wellness and sick care. A rare find in the Boston area, his clients loved the personal touch and world-class customer service.
Dr. Bourquin typically travels within a ten-mile radius, arriving at the pet owner's home for a one-hour appointment, which is unheard of even for a clinic. "I prefer to see the animal in their element, they are much calmer and less frantic when treated in their home environment. One dog feel asleep at my feet," says Dr. Bourquin. "I am also able to detect issues in the home pet owners would not identify. For instance, I had a patient with a dog who had severe allergies but the trigger was unknown. After my visit, I immediately was able to spot cedar mulch used in the garden beds which was the source of the dog's irritation."
Dr. Bourquin compliments this higher level of service and care by offering online access to medication requests and a confidential pet portal .
"Clients benefit from the pharmacy's free home delivery and quick and seamless access to extensive pharmaceutical services at the touch of a button. The pet portal enables owners to upload pet photos, request appointments and access health records. This technology has been great with keeping appointment notes accessible for the pet owners. Since the website is globally accessible, if one of my patients takes a trip and forgets their pet's medication, they can login to the pet portal for the original prescription," says Dr. Bourquin.
Dr. Bourquin's philosophy is to build a long lasting, collaborative relationships with each client to create a partnership where both have the pet's best interests at heart. Dr. Bourquin's compassionate approach is not just for solving problems, but also for preventing future health-related issues. "All prescriptions are recommendations, thus each client is given time do their own research before giving me the official okay to order – nothing is forced. Depending on the pet's needs, I also look past their current condition and work towards preventative measures. I am working to put myself out of business," Dr. Bourquin laughs.
In early June 2014, Dr. Bourquin will officially open a new, state-of-the-art veterinary clinic in Boston's historic Bay Village, called Boston Veterinary Clinic. "The clinic will enhance my current service offerings by providing on-site surgical and dental capabilities, digital radiography, and extend our breadth of services with a larger staff. We will have a total of four doctors – one on surgery, two for appointments and one for in-home care. We have been working over the past two years on designing a practice that changes the way our clients experience veterinary care in Boston. They will have the best of both worlds: a well-designed facility with the latest diagnostic technology and the highest standard of custom-tailored pet care, delivered to each individual client's needs. " Dr. Bourquin says with enthusiasm.
To top it all off, Boston Veterinary Clinic will have free on premises parking for their clients.
About Boston Veterinary Clinic
Boston Veterinary Clinic is located at 363 Tremont Street in Boston's historic Bay Village. The clinic will offer comprehensive medical, dental, diagnostic and surgical services to complement the in-home care service. Nine free parking spots are also available for patrons visiting the clinic. To make an appointment or to get more information, visit the website at bostonveterinary.com or call (857) 362-8672.