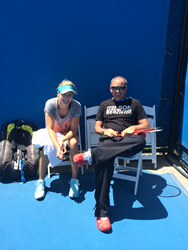 'The key is for Genie to stay focused on the fundamentals of her improving week by week and not be distracted by other people's expectations or other media attention.' - Nick Saviano
Indian Wells, CA (PRWEB) March 07, 2014
It's been six weeks since Eugenie Bouchard's momentous run to the Australian Open semifinals, and the Canadian tennis star hasn't had a dull moment since. She helped Canada defeat Serbia in Fed Cup play, and competed in WTA Tour events in Qatar, Dubai and Mexico. She's been enlisted for WTA promotional events and photo shoots galore, from the beaches of Acapulco to an NHL game in Los Angeles. Now, the 20-year-old has arrived in Indian Wells, Calif., where the next marquee tennis event of the season kicks off today.
Saviano High Performance Tennis longtime student, Eugenie Bouchard will face Peng Shuai of China in her opening match at Indian Wells, marking the first time these two athletes meet on the WTA tour.
Coach Nick Saviano is more concerned with her development than her draw. "I'm looking forward to having [Genie] continue to improve and develop her skills as she pursues being the best she can be. The key is for Genie to stay focused on the fundamentals of her improving week by week and not be distracted by other people's expectations or other media attention," shared Nick.
About Saviano High Performance Tennis:
Saviano High Performance Tennis…Where junior players enjoy growth in rankings and maturity as they progress through the age divisions; Where college-seeking players realize their goal of playing collegiate tennis while empowering learned self-belief; Where collegiate players hone their individual skills for the betterment of their collective teams; Where Tour-level players reach their career potential by completing their total player package.
World-class training programs to fit the goals of competitive tennis players have been created and perfected by Saviano High Performance's Nick Saviano. These programs are exclusive to SHPT and taught by elite instructors with global experience in the competitive game at the junior, collegiate and professional levels. Saviano's proven methodology has developed more than 50 ATP & WTA players, Grand Slam winners, World #1's; Junior Wimbledon, US Open, French Open and Italian Open Champions, 24 USTA National Junior Champions, 8 Foreign National Junior Champions and more than 25 ITF Junior Champions, including Sunshine Cup, Orange Bowl and Eddie Herr winners.