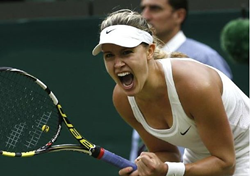 "Our only focus is her relentlessly improving, getting better and better and better," Saviano said. "Genie's just out there to be the best player she can possibly be. She's doing a great job of that, and we don't get sidetracked."
Plantation, FL (PRWEB) July 03, 2014
She's won 28 of her last 32 matches on Wimbledon's lawns ranging from three Junior Championship trophies to former WTA top-5 Daniela Hantuchova, Silvia Soler-Espinosa Andrea Petkovic, Alize Cornet, and Angelique Kerber. She's three for three in making Grand Slam semifinals in 2014, getting to the penultimate match at both the Australian Open and Roland Garros, each time taking a backseat only to the tournament's eventual champion. And now she's in the semifinals of Wimbledon. She's conquered the task of winning her first WTA title, hoisting the trophy in Nurnberg, Germany in May. In fact, she's the only woman to have reached at least the quarterfinals at all three Grand Slams so far this year. There will be time to celebrate, but she's far from where she wants to be. For now the 20-year old is committed to getting better with every match. Such is the tunnel vision of Eugenie Bouchard. One of WTA's rising talents and the focus of Genie's Army, her legion of followers known for raining stuffed animals on their beloved star, Bouchard has climbed to #13 in the world and is the youngest player in the top-20.
"There's no substitute for proven." Such is the motto associated with mentor and coach, Nick Saviano. And if there was ever a prophetic result, Bouchard is proving the benefits of a longtime partnership with the dynamic teacher.
"Our only focus is her relentlessly improving, getting better and better and better," Saviano said. "Genie's just out there to be the best player she can possibly be. She's doing a great job of that, and we don't get sidetracked."
The message is the same from both player and coach. That's not surprising; Saviano said the two usually are on the same page.
"Obviously we talk tactically about different players, different nuances. But essentially it's about Genie Bouchard playing Genie Bouchard tennis, and being able to execute as well as she can, and competing as well as she can," Saviano said.
"I have been training with Nick's academy since I was 12-years old full-time which I feel has significantly improved my skills and helped me achieve my dreams. I have really big goals for my tennis, my ultimate goal is to win a Grand Slam and I just want to be as good as I can be" said Bouchard at a recent training session at Saviano's high performance tennis program in Plantation, Florida.
"I have high expectations for myself and with Nick's push and guidance I know I'll get there."
Two-time Grand Slam champion Tracy Austin on Genie's quarterfinal 6-3, 6-4 victory over Angelique Kerber: "That was an amazing match by Bouchard, so mature. She served so well and had terrific penetration on her ground strokes. We expected big things from Eugenie not many expected it to happen so quickly."
Genie Bouchard's next performance is tomorrow, Thursday, July 3rd in a seminfinal match-up at Wimbledon Friday, against Simona Halep.
About Saviano High Performance Tennis (SHPT): World-class training programs to fit the goals of competitive tennis players have been created and perfected by Saviano High Performance's Nick Saviano. These programs are exclusive to SHPT and taught by elite instructors with global experience in the competitive game at the junior, collegiate and professional levels. Saviano's proven methodology has developed more than 50 ATP & WTA players, Grand Slam winners, World #1's; Junior Wimbledon, US Open, French Open and Italian Open Champions, 24 USTA National Junior Champions, 8 Foreign National Junior Champions and more than 25 ITF Junior Champions, including Sunshine Cup, Orange Bowl and Eddie Herr winners. Located at the 24-court Veltri Tennis Center in Plantation, Florida in Greater Fort Lauderdale, SHPT is easily accessible from Fort Lauderdale/Hollywood International Airport and Miami International Airport.
About Nick Saviano: Internationally recognized as one of the top developmental coaches and coaching educators in tennis, Saviano served as USTA's Director of Coaching for Men's Tennis, Director of Coaching Education & Sport Science and National Coach. Nick was named United States Olympic Committee (USOC) Developmental Coach of the Year and USTA Florida Section Developmental Coach of the Year for 2006. In 2007 he received the Tennis Canada Coaching Excellence Award. Saviano is both a USPTA and PTR Master Professional and was named USPTA Touring Coach of the Year in 1993. As a player, Saviano was a two-time Stanford University All-American and NCAA National Championship-winning Team Member and a world-class professional for nine years, winning four ATP Tour titles. Saviano authored "Maximum Tennis", one of the best-selling tennis books in the world, and has written for major publications on all aspects of the game. Saviano is one of the most sought after speakers on developmental coaching, having presented programs and lectures throughout the world, including the U.S., England, France, Spain, Australia, Mexico, Japan and Ireland.