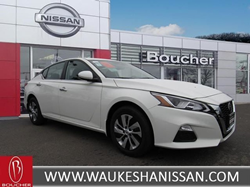 WAUKESHA, Wis. (PRWEB) October 21, 2019
History has seen the Nissan Altima sedan grow to become the de facto flagship vehicle for the model family, and as such, it should come as no surprise that the Altima is one of the strongest, most innovative, and most efficient vehicles in the Nissan lineup. It returns to America for the 2020 model year with even more of what drivers love, and to sweeten the deal, local dealership Frank Boucher Nissan of Waukesha is currently offering the 2020 Altima to consumers with plenty of discounts and incentives attached.
The 2020 Altima offers just about everything drivers might need to enjoy the ride, from a 236 horsepower drivetrain to high-tech infotainment inside, along with a climate-controlled cabin and available leather seating. The 2020 Altima is also able to achieve up to 39 highway miles per gallon, making it one of the most efficient sedans in its class.
Prospective shoppers looking to save on the 2020 Altima will be pleased to learn of its lease terms at Waukesha Nissan. When approved for credit financing through the dealership, customers may be eligible to lease the Altima's S AWD trim for $219 per month for a 36-month lease, with a required down payment of $2,900. Extra rebates of $500 are available for military members and college graduates as well.
The terms of this offer expire on October 31, 2019, so to expedite the purchasing process, all interested drivers are encouraged to apply for credit approval on the Waukesha Nissan website. Members of the public may also trade in their current models for even further discounts on the Altima model of their choosing.
Any customers who would like the test drive the 2020 Altima before buying or leasing it are encouraged to contact Waukesha Nissan to do so. The dealership may be reached by phone at 800-504-6619, online at waukeshanissan.com, or in person at 1451 East Moreland Boulevard in Waukesha, Wisconsin.