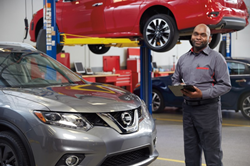 WAUKESHA, Wis. (PRWEB) June 25, 2019
An essential part of the car ownership experience is keeping it well-maintained, a much easier endeavor when services are available with sales and incentives attached to the final price. Because of this, Milwaukee-area dealership Boucher Nissan of Waukesha is proud to offer some of the most common automotive services drivers need with great specials throughout June.
Current service specials at the dealership's shop include 15 percent off wiper blades, a $149.95 Pothole Special (including wheel balance, a 4-Wheel Alignment, Tire Rotation and Brake Inspection), and Brake Pad & Rotor Replacement for up to $60 off per axle.
The dealership is also offering its "The Works" package for $49.95, which includes an oil change, tire rotation, brake inspection, car wash, and multi-point inspection.
A special that's exclusive to Boucher Nissan of Waukesha is its "$1 Over Cost Tires" sale – consumers will only pay one dollar over the cost of their desired tires, from top brands like Goodyear, Uniroyal, Michelin, and more. All specials and incentives listed are valid from now until June 29, and all coupons for these sales can be found on the dealership's website.
The service department at Boucher Nissan of Waukesha is populated with factory trained technicians that are certified to work with genuine OEM parts. Interested members of the public who would like to schedule an appointment can do so by contacting the dealership's service team by phone at 844-339-0067 or online at waukeshanissan.com. Boucher Nissan of Waukesha is located at 1451 East Moreland Boulevard in Waukesha, Wisconsin.