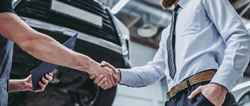 WAUKESHA, Wis. (PRWEB) March 18, 2019
Vehicle ownership is an ongoing process, demanding routine maintenance and service for every driver on the road. Nissan owners who find themselves in need of service are encouraged to visit local dealership Boucher Nissan of Waukesha, whose service center is offering discounts for shoppers throughout March.
Current service specials at Boucher Nissan Waukesha include 60 dollars off per axle on brake pads and rotor replacement, 50 percent off wheel alignments, and 15 percent off wiper blades, complete with free installation.
Drivers may also take advantage of battery replacement services priced at $109.95, as well as "The Works" package – including oil changes, tire rotations, brake inspections, car washes and multi-point inspections – for $49.95. Taxes and fees apply for both service promotions, and all coupons may be found on the Boucher Nissan of Waukesha service specials page.
All aforementioned service specials at the dealership are valid until March 30, 2019 – those looking to schedule an appointment are encouraged to contact the Boucher Nissan of Waukesha service team at (844) 339-0067, or online at waukeshanissan.com. The dealership is located at 1451 East Moreland Boulevard in Waukesha, Wisconsin, and is open from 9 a.m. to 9 p.m. Monday through Friday, and 9 a.m. to 5 p.m. on Saturdays.