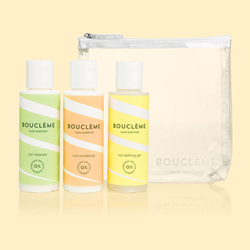 Bouclème has been designed specifically for curly and wavy hair, which — according to Bouclème – more than 60% of women worldwide have.
San Francisco, CA (PRWEB) August 18, 2015
Today Ayla (aylabeauty.com), a San Francisco-based beauty boutique, expands its portfolio of carefully curated non-toxic beauty products with the addition of Bouclème, a new line of sulfate-free, silicone-free, phthalate-free, and paraben-free curly hair products from the UK. This new curly hair care brand, previously not available in the US, adds to Ayla's suite of naturally effective beauty products offered along with personal guidance and expert advice.
"Ayla is very excited to offer Bouclème exclusively to the US market," stated Dara Kennedy, founder of Ayla. "These natural and non-toxic hair care products represent everything that Ayla customers look for: They deliver excellent results, they don't contain controversial ingredients, and they've been crafted with care. Ayla chose Bouclème as its first hair care product line because curly hair can be particularly challenging to care for, so it made sense that 'curlies' should be the first in line to get products to pass Ayla's 'non-toxic but really works' test."
Bouclème has been designed specifically for curly and wavy hair, which — according to Bouclème – more than 60% of women worldwide have. The brand has already been generating buzz in UK publications including Marie Claire, Allure, and Glamour due to its unique approach to natural curl care. Bouclème founder Michele Scott-Lynch explains, "These natural curly hair care products are unique for a variety of reasons. The range is handcrafted in small batches in the UK using natural botanicals. They use coconut and argan oils that can penetrate deep into the hair shaft; add to this the humectant properties of aloe and the conditioning properties of Linseed, and together they hydrate, soften, and smooth the hair cuticle, enhancing curl formation and definition — without silicones or sulfates."
Bouclème debuts at Ayla and on aylabeauty.com with a Curl Cleanser, Curl Conditioner, Curl Defining Gel, and Curl Towel, ranging in price from $25 to $31 for full size products. Kennedy notes, "What's great is that the Curl Cleanser, Curl Conditioner, and Curl Defining Gel are also available in small sizes, which are great for both trial and travel."
Bouclème buyers at Ayla and aylabeauty.com will also benefit from expert curly hair advice on the Ayla blog (some of it directly from Michele Scott-Lynch herself) and personal guidance on demand from the Ayla Guides. "A Guide is like a personal shopper for beauty products who really knows what she's talking about – taken to the next level. Ayla Guides go through an extensive training program so that they can provide customers with the best advice, and in turn ensure they get the best results," Kennedy explains.
Bouclème has recently partnered with Trees For The Future, so for every Bouclème bottle or travel kit purchased, the company will plant a tree.
Those interested in learning more about or purchasing Bouclème products can visit Ayla at 1825 Bush St in San Francisco or online at http://www.aylabeauty.com.
About Ayla
Ayla is an online beauty retailer and San Francisco-based shop that offers consumers personal guidance for non-toxic beauty products that work. To ensure its customers get the best results, Ayla combines the best natural, organic, and "nasty ingredient-free" products with expert recommendations and holistic beauty advice. Since 2011, aylabeauty.com has built a loyal following for its highly personalized and convenient experience. Ayla is a privately held company with headquarters in San Francisco, CA. For more information, visit aylabeauty.com.