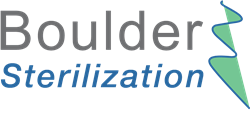 Boulder iQ has added sterilization chambers to meet increased demand from medical device developers nationwide.
CASTLE ROCK, Colo. (PRWEB) June 28, 2022
Boulder Sterilization, a division of Boulder iQ, has more than doubled its capacity for ethylene oxide (EO) sterilization of medical devices, and is completing standard validations for medical devices in as little as four weeks.
The company has added three sterilization chambers, bringing its total to five, to meet increased demands from medical device developers nationwide. The sterilization service provides full validations as well as validations for single-lot releases and engineering runs.
Boulder Sterilization attributes the increased demand to several factors. One is that the company has been able to maintain a constant EO gas supply in a market where many companies have suffered from supply chain issues. Another is reliability, says Peggy Fasano, chief operating officer. "We are straight-forward and direct with our customers," she says. "We make commitments thoughtfully, with strong data, so that we can keep deadlines. Customers receive sterilized products on time, every time."
In conjunction, the company has been able to continually shorten the amount of validation time. Whereas standard validations in the industry may take 8-10 weeks, Boulder Sterilization has developed a method to complete them in as little as 4 weeks. "By conducting multiple cycles simultaneously, at different set points, we can handle sterilizations more efficiently while mitigating the risk of problems often inherent in the initial cycle," explains Fasano. "It's one more way we are implementing a 'think smart' approach for medical device developers who need to speed their products to market."
Boulder Sterilization also offers outsourced process equivalency service for EO sterilization. The service includes rigorous internal procedures to conduct process equivalence from equipment in other facilities. This allows companies to easily transition to a new piece of equipment, switch sterilization vendors or have more than one sterilization vendor. Boulder iQ follows Association for the Advancement of Medical Instrumentation (AAMI) TIR 28:2016 product adoption and process equivalence for ethylene oxide sterilization guidelines.
"Medical device companies need to get products to market faster and more efficiently than ever," says Fasano. She cites the fact that with its increased capacity and full service offering, Boulder Sterilization can accommodate more projects and more developers. "Whether it's a start-up or a larger, established company, the need for reliable, quality service is the same," she states. "Boulder Sterilization is helping meet the increased demand with programs and equipment designed specifically to meet the needs of medical device developers."
Boulder iQ (http://www.boulderiq.com)
Boulder iQ is an expert contract firm that provides life sciences companies all the services they need to bring products to market. With specialties in regulatory affairs, quality assurance, design, engineering and manufacturing, the company's single-source program speeds product development. The Boulder Sterilization Services division, providing quick-turn ethylene oxide sterilization, final assembly and packaging services, is the recent recipient of a $250,000 grant from the Colorado Office of Economic Development and International Trade's Advanced Industries Accelerator Grant Program.
Based in Boulder, Colorado, Boulder iQ is ISO 13485:2016 certified through Boulder BioMed. The company's Boulder Medical Device Accelerator provides equity investment in start-up companies seeking product development services, expert mentoring and infrastructure support.