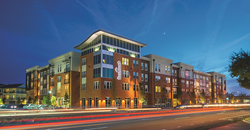 "I have enjoyed a long partnership with The Beach Company, where I have been challenged to create memorable environments for people that are unique to the place" – Ron Harwick, JHP Architecture/Urban Design
Charleston, SC (PRWEB) October 15, 2014
The architect of The Boulevard Apartments, developed by The Beach Company in Mt. Pleasant, SC, has been inducted into Builder Magazine's elite William S. Marvin Hall of Fame for Design Excellence.
The Marvin Hall of Fame honorees are celebrated for a legacy of delivering remarkable residential design. The award was presented to Ron Harwick of JHP Architecture/Urban Design at the Builder Magazine Reinvention Symposium, on Tuesday October 14, in Washington, D.C.
Ron Harwick and JHP have worked with The Beach Company on multiple projects in South Carolina and Georgia, including Central Square at Watermark, The Boulevard and Riviera at Seaside in Mt. Pleasant, Parks at Nexton in Summerville, CanalSide in Columbia, SC, and South Ridge in Greenville, SC and Parkside at the Highlands in Savannah. "I have enjoyed a long partnership with The Beach Company, where I have been challenged to create memorable environments for people that are unique to the place, and sustainable over time. Our Charleston area multifamily projects were acknowledged in the Hall of Fame Award announcement," says Ron Harwick.
"Signature Harwick design elements include tall ceilings, oversized windows, discreet parking, and exteriors that complement existing streetscapes. JHP incorporates a great variety of amenities into their projects to enhance residents' quality of life," says John Darby, President of The Beach Company, who has worked with JHP on several projects. "Harwick's architecture successfully combines commercial space with residential to encourage interactivity."
The Award announcement in Builder Magazine cites Ron Harwick as a "trendsetter." Those closest to Harwick describe him as a man who insists on designing "buildings that work."
As co-founder of Dallas-based JHP Architecture/Urban Design, Harwick designs multifamily rental projects that resonate with tenants of all ages and economic backgrounds. His award-winning work spans urban mixed use, transit-oriented development, active adult communities, and affordable housing.
Harwick has previously been awarded Multifamily Executive Magazine's Project of the Year: Low-Rise award in 2005, for Cityville Fitzhugh, a Dallas project that wraps three-story residential construction around a parking garage. His firm's townhome designs for Atlanta's Perry Homes master plan development garnered a 2005 NAHB Pillars award as best affordable project.
About Ron Harwick:
RONALD E. HARWICK, AIA, CSI is Vice President and Founding Partner of JHP Architecture/Urban Design. Widely recognized for his expertise within the industry, Ron has been published in Multifamily Trends and Urban Land Magazines, Residential Architect, and Affordable Housing Finance to name a few. In addition, Ron represents JHP on the Mixed-use Council at the Urban Land Institute, is a member Congress of New Urbanism, a Fellow with the Institute of Urban Design, and a Certified Specifier with the Construction Specifications Institute.
About The Beach Company:
The Beach Company has been a leader in residential and commercial real estate brokerage, development and property management for more than 65 years. Founded in Charleston in 1945, the company honors a tradition of responsibility and excellence in providing top quality real estate products and services for communities, businesses, industries, and most importantly families across the Charleston Lowcountry and the Southeast Region. For more information on The Beach Company, please visit http://www.TheBeachCompany.com.
###
Contact: Karen Bacot
Director of Marketing
843-277-3093
kbacot(at)thebeachcompany(dot)com