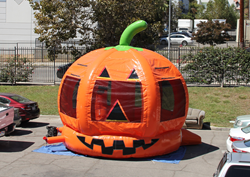 Halloween Pumpkin Bounce House made by Bouncer Depot
Pacoima, CA (PRWEB) September 28, 2014
Leading California-based bounce house manufacturer and distributor Bouncer Depot is announcing the release of its special limited edition Halloween Pumpkin Bounce House. The pumpkin-shaped bounce house features a friendly, smiling jack-o-lantern towering over 13-feet from top to bottom. And at 15-feet long and 15-feet wide, there is plenty of room for trick-or-treaters to work off the extra energy from eating all that candy.
"At Bouncer Depot we love having fun, which means we enjoy every holiday, including Halloween. Halloween's popularity is growing, so this year we wanted to create a Halloween-inspired bounce house. And what better represents Halloween than a jack-o-lantern," said, Steve Johnson, spokesperson for Bouncer Depot.
As with all of their bounce houses and inflatables, the Halloween Pumpkin Bounce House comes with a full 3-year warranty and 30-day money back guarantee. Also included is a repair kit, blower, and all the necessary instructions required to get the pumpkin ready for action.
"We're anticipating it to be a big hit at Halloween parties, community events, and corporate gatherings," Steve went on to say.
According to legend, the history of decorating pumpkins originated from an Irish folktale dating back hundreds of years. The tradition was brought to America by Irish immigrants and is still a common practice in millions of households to this day.
For more detail about the special edition Halloween Pumpkin Bounce House and to place an order, visit http://www.bouncerdepot.com or call them at 1-877-577-7119 to speak with a friendly customer service representative.
About Bouncer Depot:
Founded over 13 years ago, Bouncer Depot is the leading bounce house and inflatable manufacturer in the country. Using cutting edge technology, a strong design team and innovative design concepts, Bouncer Depot produces the largest selection of inflatable water slides, bouncers and obstacles available in today's marketplace. The company's core values include:
Providing unsurpassed service and value to the customer
Utilizing cutting edge technology
Employing the best designers in the business
Fostering a culture of innovation
Backing up their products with a 3-year warranty and 30-day money back guarantee
Their products are currently bringing fun and joy to people in countries all over the world. Every Bouncer Depot product is designed and manufactured in the United States. For more information about Bouncer Depot, please visit http://www.BouncerDepot.com.