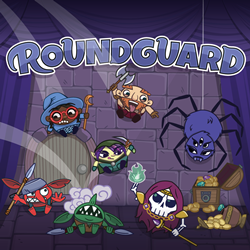 Roundguard is a fun modern game with amazing artwork and pinball physics
CHICAGO (PRWEB) September 14, 2021
iiRcade Inc., a premium home arcade cabinet that allows gamers of all ages to play their favorite retro and modern games in arcade style at home, is pleased to announce that Roundguard, officially licensed and developed by Wonderbelly Games, is coming soon to iiRcade.
Roundguard is a bouncy dungeon crawler with pinball physics, lots of loot, and a randomized castle full of oddballs. Players face hordes of dangerously cute monsters and challenging roguelike elements in this all-round bouncy adventure.
"Roundguard is a fun modern game with amazing artwork and pinball physics," said Jong Shin, founder & CEO of iiRcade. "The game is a lot of fun and we're very excited to bring it to the iiRcade."
The game takes place with Castle Springbottom under attack and the Roundguard must save the king and recover his gold. Players only have one life, so they'll need to learn how to navigate hazards, make strategic choices, and master their hero's skills if they hope to defeat the final boss.
Game Features:

Bouncy Fun: Intuitive pinball-physics-based gameplay like no other dungeon crawler.
Multiple Classes: Play as the Warrior, the Rogue, or the Wizard, each with their own unique skills, items, and cheeky sense of humor.
Randomized Dungeon: Each time you play, levels are procedurally generated, and quest events and elite monsters are randomly placed.
Permadeath with Benefits: When you die, you'll have a chance to bring a special trinket with you on your next run. The more gold you grab, the better your chances to collect one of the most powerful trinkets.
A Cast of Oddballs: Chat with the castle's colorful cast to pick up quests and learn why some rats want their king dead, what's irritating the local teenage skeleton today, or what the Warrior will do if you can't get to a bathroom quickly enough.
Lots of Loot: Over 100 items and trinkets, each with effects that present strategic choices and combo possibilities.
Show Off Your Skills: Compete on the leaderboards and try to master all the challenging, rule-bending relics.
Previously released on Apple Arcade, Steam, Switch, Xbox One and PS4, this will be the first time Roundguard is available on a home arcade.
iiRcade allows for cinematic arcade gaming experiences via 19" High-Definition display, 100W Dual Stereo Speakers, Premium Arcade Joysticks and hardware and software optimized for gaming. iiRcade also has the latest features built-in, such as WiFi 5, Bluetooth 4.2 and HDMI-Out, that bring arcade experiences to today's gamers.
Each iiRcade comes with 11 pre-loaded games: Dragon's Lair, Double Dragon, Gunbird, Beach Buggy Racing, BombSquad (online multiplayer party game), Snowboard Championship, Diver Boy, Dragon Master, Maniac Square, Twin Brats and Fancy World.
All games are officially licensed and available at affordable prices, and new titles are continuously added to the growing iiRcade store library. The iiRcade Store can be accessed on phones or via browser on PC or Mac through the iiRcade store link.
A full list of games currently licensed and targeted for release on iiRcade Store can be found here.
iiRcade is available in six versions and comes with a one year best-in-class warranty. Versions include: iiRcade Classic Edition, Space Ace Edition and Beach Buggy Racing 2 : Island Adventure Edition come with 64-GB storage memory and iiRcade's premium classic joysticks, while four special editions include upgraded 128-GB storage memory and original Sanwa joysticks. The special editions include RetroMania Wrestling Edition, Dragon's Lair Edition and Black Edition, which enables users to design their own cabinet graphics and comes with officially licensed Double Dragon artwork that can be put onto the cabinet as a free gift.
For more information and to order iiRcade, visit iiRcade.com.
About iiRcade
iiRcade is a premium arcade gaming experience like no other. Play retro arcade games that you remember to the latest modern games in amazing arcade style. With cinematic gaming experiences powered by 19" high-density display, 100W of powerful stereo sound, premium 2-player arcade controllers and device optimized for the best arcade gaming experiences, iiRcade delivers arcade gaming that is so immersive, you will feel like you are inside the game.
About Wonderbelly
Wonderbelly Games is a Seattle-based independent game studio made up of Andrea Roberts, Bob Roberts, and Kurt Loidl. They're a tiny team of close friends who used to work on big AAA games: Bob led the design team on Shadow of Mordor and Shadow of War, while Kurt and Andrea worked on the Fable series and more at Microsoft. Now they follow their hearts and their bellies to make games for you to gorge on or savor one bite at a time.