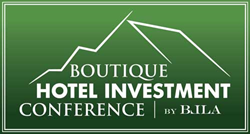 "This year's New York conference will showcase the tremendous strength of our independent boutique & lifestyle hospitality sector and demonstrate how owners, investors, developers are profiting from their innovative & strategically thought-out decisions."
Los Angeles, CA (PRWEB) May 06, 2015
BLLA unveils impressive line-up of hospitality visionaries for its Annual Boutique Hotel Investment Conference to be held at the SVA Theatre, New York at 333 W. 23rd Street.
The primary focus of the conference, powered by BLLA, is capital investment and financing for independent boutique and lifestyle hotels. The program will include an individual vignette from Mark Keiser, Chief Development Officer for the SH Group who will discuss the Baccarat Hotels record-breaking $2 million per key transaction & the new 1 Hotels venture created by Barry Sternlicht. Also featured is a keynote from well-known industry executive and Morgans Hotel Group former CEO, Fred Kleisner and lunch-time Keynote from Enrique "Kike" Sarasola, President & Founder, Room Mate Hotels & BeMate.com on the subject of "Opportunities for hotel development in Europe and winning strategies for today's investor."
BLLA will welcome back Ian Schrager, CEO of The Ian Schrager Company for a Spotlight interview and a rare Q&A session. Also returning is boutique hotel pioneer, Jason Pomeranc, CEO of SIXTY Hotels in a Center-Stage Interview.
Frances Kiradjian, Founder & CEO of BLLA, stated, "This year's New York conference will showcase the tremendous strength of our independent boutique & lifestyle hospitality sector and demonstrate how owners, investors and developers are profiting from their innovative and strategically thought-out decisions. They have been the drivers of change in the entire hospitality industry and we are extremely proud to be by their side as a vehicle for the rising tide of these great hotel properties."
The conference is known for its distinctly boutique spirit and intimate size, allowing attendees to get up close with these industry executives. It is a highly-targeted version of other hotel investment conferences, created to amplify the voice of the independent hoteliers. It is purposely small by conference standards to allow for maximum networking. The venue and program is streamlined for efficiency and ease of navigation.
The Agenda, speakers and important links, including negotiated hotel rates for attendees, can be found at the BLLA Events website, http://www.bllaevents.com. Note: the International Boutique Lifestyle Leadership Symposium will be in Los Angeles, Oct. 21-23, 2015 at the Fairmont Miramar Santa Monica.
Commenting on the excitement surrounding this year's event is Jonathan Falik of JF Capital. "Building on the tremendous success of last year's annual Boutique Hotel Investment Conference, I am excited to participate in this year's conference. The conference brings together the who's who of the boutique hotel industry and promotes spectacular sharing of knowledge and industry insight combined with unparalleled networking opportunities. If you are interested in or involved in boutique and lifestyle hotel investment, this conference is the place to be!"
Participants find the BLLA conferences provide the most valuable education and relevant content in the independent boutique lifestyle category. John Keeling, Executive Vice President of The Valencia Group shared his sentiments. "BLLA invites the most pertinent speakers on the subject at hand and, while they do not exclude sponsors, it is the quality of the program that determines the lineup of speakers. This is the only conference that I go to primarily for the content. If you are an independent boutique or lifestyle hotel owner, operator or lender, you will find the most refreshing content not covered by the other conferences."
Executives from the following companies will participate in panels, vignettes and interviews:
1 Hotels, Baccarat Hotels , BD Hotels, Best Western, BLLA, Boutique Hospitality Management, Canyon Capital, Commune Hotels + Resorts, Cornell University, Denihan Hospitality Group, ESquared Hospitality, FelCor Lodging Trust, GB Lodging, Hampshire Hotels & Resorts, HHM / IC Independent Collection, Hospitality Atelier, Hotel Business, HVS Hospitality, Ian Schrager Company, IHG, JF Capital Advisors, JMBM Global Hospitality Group, Kimpton Hotels & Restaurants, LDV Hospitality, Loews Hotels, Morgan's Hotel Group, NOLA Hospitality, NYLO Hotels, NYU School of Professional Studies – Tisch Center for Hospitality & Tourism, OPUS Hotels, Pinnacle Advisory Group, PKF Hospitality Research, Puccini Group, Red Lion Hotels, Related/ Equinox, SH Group, STR, Inc., The Pomeranc Group, The Sydell Group, The Wall Street Journal, Virgin Hotels, VOA Associates, and Wells Fargo.
BLLA thanks its' Sponsors: ChaiElixir, Chipz, Churchill, CohnReznick, CVENT, Enlightened, Greenberg Traurig, Davis Wright Tremaine LLP, Duetto, Duxiana, Boutique Design, Hospitality Design, Hotel Executive, HotelNewsNow, Hotel-Online, Hsyndicate, IceBox Water, Interior Design, JF Capital Advisors, JMBM Hospitality Group, Leonardo, Lodging Magazine, NEWH, Parker & Morgan, Real Estate Alert, Reverie, Savvy Traveler, SUITELIFE by Venture Insurance.
BLLA's other conferences include: October 21-23, 2015 - Boutique Lifestyle International Leadership Symposium, Fairmont Miramar Hotel Santa Monica, CA.
January 27-28, 2016 - Executive Women's Conference, Los Angeles. http://www.bllaevents.com.
About The Boutique & Lifestyle Lodging Association (BLLA)
The Boutique & Lifestyle Lodging Association (BLLA) is the first and only alliance association dedicated to uniting the world's independent boutique and lifestyle hotels and small brands. This organization was created to be the unifying voice of this distinctive subset within the hospitality industry. BLLA's goal is to unite the world's collection of independent boutique & lifestyle properties and the suppliers that sustain them, offering them the opportunity to successfully compete on a level playing field with major hotel companies, as well as market themselves to meet the ever-increasing demand from discerning boutique-seeking clients. For more information or to become a member visit http://www.blla.org.