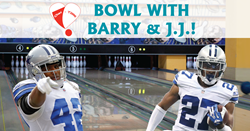 "Tickets still available to bowl with the boys on July 19th at bowlwithbarry.eventbrite.com."
Dallas, Texas (PRWEB) July 14, 2014
Chari-T2000 and Main Event Frisco announced today that two Dallas Cowboy football players will participate in the organization's upcoming bowling fundraiser at Main Event in Frisco on Saturday, July 19th, from 9am - 1pm. Barry Church, Dallas Cowboy starting safety, loves football. When he isn't knocking down passes, he loves to knock down bowling pins. He also likes to support worthy causes like raising money for special needs kids. It was a natural fit for him to sign on for a Chari-T2000 bowling event. Barry's teammate, JJ Wilcox, another Dallas Cowboy safety, is also signed up to bowl and raise money for Chari-T2000. Chari-T2000 is encouraging the public to join their cause through buying tickets to the event and raffle tickets for great prizes online at http://bowlwithbarry.eventbrite.com.
The following opportunities are available:

For $20 fans can get the players' autographs and have pictures taken with them.
For $100 fans can bowl with Barry and JJ and enjoy snacks, photo and autographs.
For $250 fans can secure a place on one of their teams for two games.
A great raffle with prizes that include a signed Dallas Cowboys helmet in a display case
Chari-T2000 is a 501(c), non-profit, created to give children receiving rehabilitative service the needed tools and opportunities to make progress and reach their full potential. For many families with children receiving rehabilitative services, obtaining necessary medical services or equipment is extremely difficult. There are often insurance limitations that make funding these important items challenging. Chari-T2000 was created to bridge the gap when it is not financially feasible for families to provide these tools and no other funding source is available. All families provide 10% of their funding request. Since the charity's creation, it has provided hundreds of tools to help kids with special needs reach their full potential. These include wheelchair lifts to get kids out in their community and communication devices to help children express themselves. You can read more success stories here: http://chari-t2000.org/success-stories/.
Chari-T2000 board members are available for on-air and print interviews and media are invited to attend the event. Follow us on Twitter (@myt2k) and #bowlwithbarry and http://www.facebook.com/THERAPY2000.