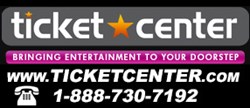 This fight is setting up to the biggest of 2013, and we have some of the best seats in the house still available
Las Vegas, NV (PRWEB) August 16, 2013
TicketCenter.com, one of the Internet's most popular ticket websites, announces a five percent discount on Floyd Mayweather Jr vs. Canelo Alvarez tickets using a special promotional code. Tickets to this sold out and highly anticipated fight are available online at http://www.ticketcenter.com.
Taking place Saturday, September 14th at the MGM Grand Garden Arena in Las Vegas, Nevada, the boxing match between Floyd Mayweather, Jr. and Canelo Alvarez is being called the biggest fight of 2013. While Floyd Mayweather Jr tickets often sell out fast and can be hard to come by, TicketCenter.com still has seats available at a variety of price levels. For a limited time, ticket buyers can use the promotional code "boxing5" to receive an additional five percent discount off their tickets.
Tickets to this highly sought after fight have already sold out from many box offices and sources. As with many other events, TicketCenter.com often has tickets available even when other venues are sold out. Often, boxing tickets are often purchased quickly and can be difficult to come by. TicketCenter.com sells cheap boxing tickets, affordable music concert and theatre tickets at competitive prices to some of the most popular events in the U.S. and Canada.
"This fight is setting up to the biggest of 2013, and we have some of the best seats in the house still available," says a spokesman for TicketCenter.com. "We're very excited to be able to offer our loyal clientele an additional five percent off on tickets that are not available elsewhere. The Mayweather vs. Alvarez boxing event is a must see, and this promotion helps make that possible."
For anyone still looking to purchase tickets to this highly anticipated fight, TicketCenter.com has seats still available and for a limited time, at an additional five percent discount.
About TicketCenter.com:
Since 2007, TicketCenter.com has sold tickets to some of the biggest events across the United States and Canada. One of the most popular ticket websites on the Internet, TicketCenter.com has affordable tickets to sports, theatre and concert events, even to events that are sold out. Each purchase is backed by a 100 percent guarantee, competitive prices and excellent customer service. For more information, contact TicketCenter.com toll-free at 1-888-730-7192 or visit http://www.ticketcenter.com/floyd-mayweather-jr-vs-canelo-alvarez-tickets/2090226 .