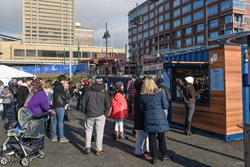 [Boxman Studios] committed to providing us with a high-quality product that meets Canalside's ever-changing needs, including variables like weather and product use.
Buffalo, NY (PRWEB) January 27, 2015
Boxman Studios, the global leader in shipping container modification, collaborated with the Erie Canal Harbor Development Corporation (ECHDC) to create two container structures for the Ice at Canalside presented by BlueCross BlueShield of Western New York. The 10' and 30' containers serve as ticket sales, and equipment rental and maintenance, respectively.
"The Ice at Canalside has seen unprecedented success in its first season of operation and has quickly become an iconic destination for thousands of visitors," said Erie Canal Harbor Development Corporation President Tom Dee. "We could not have done it without the support of our many great partners, including the team at Boxman Studios. They are committed to providing us with a high-quality product that meets Canalside's ever-changing needs, including variables like weather and product use."
Set in Buffalo's downtown corridor, Canalside is part of a large waterfront revitalization spearheaded by ECHDC and New York State Governor Andrew Cuomo. The movement began in 2005 as part of a project to restore economic growth to what was the desolate Erie Canal Harbor.
"The application of container architecture for urban development is endless," said Boxman Studios CEO David Campbell, "from retail, to restaurant, to urban gardens, containers can turn once desolate urban areas into thriving communities. We're very excited to be a part of this project in Buffalo, and hope to continue to build these kinds of projects across the country."
The delivery of the containers come on the heels of the massive snow storm that put the Buffalo region under over seven feet of snow. The extreme weather did not deter Boxman Studios transport of the structures. For now the ice rink remains frozen courtesy of the frigid Buffalo winter, and a refrigeration system. As summer approaches the canals will become a water feature, and the containers will transition to accommodate for summer activities.
About Boxman Studios
Founded in 2009, Boxman Studios offers design, development, and deployment services of customized shipping containers, modifying them for a range of markets and applications around the world. In 2014 they were named 120 in the Inc 500's fastest growing companies in America. Visit Boxman Studios at http://www.boxmanstudios.com for more information. Follow Boxman Studios on Twitter at @boxmanstudios.
About Canalside
Canalside is a growing regional destination and entertainment district, situated on 21 historic acres along downtown Buffalo's emerging waterfront on the Buffalo River. Canalside earns its name from its storied past, when the Erie Canal Harbor was built in 1825 as the western terminus of the Erie Canal. Until five years ago, the land was barren and inaccessible, but the area has been reclaimed by the state's Erie Canal Harbor Development Corp. and developed wit h millions of dollars in public and private investment. With more than 1,000 yearly events and nearly 1 million annual visitors, Canalside is fast becoming the go-to place for in- and out-of-towners of all ages to learn, play and relax. For more information, visit http://www.canalsidebuffalo.com.
About Erie Canal Harbor Development Corporation
The Erie Canal Harbor Development Corporation (ECHDC) is governed by a nine-member board consisting of seven voting directors and two non-voting, ex-officio directors. The seven voting directors are recommended by the New York State Governor and are appointed by the New York State Urban Development Corporation d/b/a Empire State Development as sole shareholder of ECHDC. The two nonvoting, ex-officio director positions are held by the Erie County Executive and the City of Buffalo Mayor. As a subsidiary of Empire State Development, the state's chief economic development agency, the Erie Canal Harbor Dcevelopment Corporation supports and promotes the creation of infrastructure and public activities at Canalside, the Ohio Street corridor and the Outer Harbor that is attracting critical mass, private investment and enhance the enjoyment of the waterfront for residents and tourists in Western New York. Its vision is to revitalize Western New York's waterfront and restore economic growth to Buffalo based on the region's legacy of pride, urban significance and natural beauty. For more information on ECHDC, visit http://www.eriecanalharbor.com.