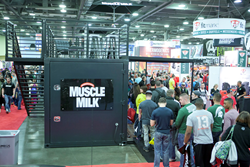 The space that Boxman Studios created allowed us to share our brand story in an innovative, fresh way with a look and feel that completely aligns with Muscle Milk and Monster Milk.
Columbus, OH (PRWEB) March 27, 2014
Boxman Studios, the global leader in shipping container modification, created an immersive brand experience for Muscle Milk and Monster Milk at the 2014 Arnold Sports Festival. Crafted from three shipping containers, the space invited show attendees to learn about and sample the latest CytoSport products, as well as sign up to receive nutritional plans from MMA champion Chris Weidman and star linebacker Clay Matthews. Weidman also made a guest appearance in the space, along with fellow MMA fighter Ryan Bader.
"We wanted to create a brand experience that would leave a lasting impression and exemplify what our brands are all about," said CytoSport Director of Marketing Shane McCassy. "Boxman Studios understood our vision and helped bring it to life. The space they created allowed us to share our brand story in an innovative, fresh way with a look and feel that completely aligns with Muscle Milk and Monster Milk."
Towering over the the convention center floor, the Muscle Milk and Monster Milk exhibit featured two VIP upper decks and a footprint of 800 square feet. The build was complete with flat panel televisions showcasing CytoSport product information, interactive iPad kiosks, and a smoothie bar with refrigeration and running water.
"Continuous improvement is our mantra at Boxman Studios," says COO Troy Selberg. "Our partnership with CytoSport is a testament to that. We've used lighter materials, and new design processes to create the lightest build we've constructed to date. Many thanks to the ingenuity of our staff and the opportunity from CytoSport."
Thanks to the success at Arnold Sports Festival, and the logistical arm of Boxman Studios, CytoSport plans to take the exhibit on tour in 2014.
About Boxman Studios
Founded in 2009, Boxman Studios offers design, development, and deployment services of customized shipping containers, modifying them for a range of markets and applications around the world. In 2013 they were named Fastest Growing Private Company in Charlotte with three successive years of 500% growth. Visit Boxman Studios at http://www.boxmanstudios.com for more information. Follow Boxman Studios on Twitter at @boxmanstudios.
About CytoSport®
CytoSport®, Inc. is one of the largest sports nutrition companies in the United States and provides high quality nutritional products to help athletes and active lifestyle individuals achieve their peak performance potential. CytoSport helps in building athletes from the inside out™ with a complete line of powders, shakes and bars and is the parent company to Muscle Milk®, an award-winning protein line used by professional athletes, collegiate athletic departments and fitness enthusiasts everywhere. CytoSport was named one of CircleUp25's 2013 most innovative companies according to Forbes, and in 2014, Fast Company listed CytoSport as one of the world's top 10 most innovative companies in fitness. Visit http://www.cytosport.com for more information.