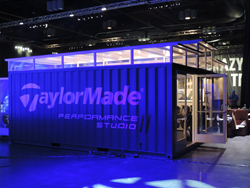 It's humbling to know that Boxman Studios is listed alongside some of the country's most iconic companies and innovative business leaders.
Charlotte, NC (PRWEB) August 20, 2014
Boxman Studios proudly announced today that it has been ranked number 120 among the 2014 Inc. 500, the country's most prestigious list of the fastest growing private companies in America. Founded during the economic downturn in 2009 by CEO David Campbell, the company has experienced three-year growth of 3,074%, tripled their employee count, and relocated to a 65,000 square foot warehouse and office space from which they design, build and transport modified shipping container solutions for clients.
In the last year, Boxman Studios was also named the Fastest Growing Company in the Charlotte Region by the Charlotte Business Journal, and CEO Campbell was recognized as a "creative leader" and included on the 2014 list of the most innovative people and brands in the events industry by BizBash, the leading trade media for event professionals.
"Being included on the Inc. 500 list is a great honor, and is confirmation that we've created a concept that resonates with people," said Boxman Studios CEO David Campbell. "It's humbling to know that Boxman Studios is listed alongside some of the most iconic companies and innovative business leaders in America."
Boxman Studios is on the list this year with new entries GoPro, Tough Mudder, and Fuhu. List alumni include category leaders Microsoft, Oracle, Intuit, Zappos, Clif Bar, Chobani, and Under Armour. Just like the immediately recognizable companies on the list, Boxman Studios has worked with many of the world's leading brands since its inception. Those companies include HP, Samsung, Google, BMW, Porsche, Infiniti, Nissan, FIAT, Ford, Nike, Adidas, TaylorMade, IMG, Lays, Red Bull, OREO, COVERGIRL, and many others.
"While we can't get specific on the exciting things we have in the queue for our clients, we do look forward to expanding our influence in the experiential marketing sector, as well as developing international partnerships to take what we've learned to global markets," Campbell states. "We also have plans to roll out a range of shipping container products in the coming months based on the high demand we receive from fans and clients."
About Boxman Studios
Founded in 2009, Boxman Studios offers design, development, and deployment services of customized shipping containers, modifying them for a range of markets and applications around the world. In 2013 they were named Fastest Growing Private Company in Charlotte with three years of 500% annualized growth. Visit Boxman Studios at http://www.boxmanstudios.com for more information. Follow Boxman Studios on Twitter at @boxmanstudios.