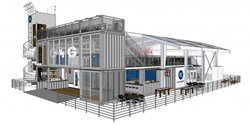 Designed to take tailgating to a new level, the PlayMaker's Club will provide a high-end college football experience inside a three-story, climate-controlled structure built from repurposed shipping containers.
Charlotte, NC (PRWEB) October 30, 2013
Since 2009, Boxman Studios has worked with global brands to create some of the most iconic structures imaginable out of shipping containers. The IMG College PlayMaker's Club is no exception. The three-story, climate-controlled hospitality structure is made from nine shipping containers and is scheduled to make its debut at the Florida-Georgia college football game in Jacksonville, Florida on November 2, 2013. It will also be on-site in Pasadena, California for the Rose Bowl on January 1, 2014, and the BCS Championship Game January 6, 2014.
The PlayMaker's Club features modern furniture, multiple bars, on-site web streaming, high-definition LED TVs throughout, and a 20' Jumbotron screen. "It's more than upscale hospitality," said Kelli Hilliard, senior vice president of a new IMG College division called Events, Entertainment, and Development which is introducing the new offering. "It's unique to what's out there, especially in the college space. It's completely experiential for the client that's looking for music, entertainment, celebrities, and a ticket to the game."
Taking mobility into account, the PlayMaker's Club has been certified to withstand hurricane winds in the Gulf, seismic earthquakes on the West coast, and snow loads in the Midwest. A pass to the PlayMaker's Club runs $500 for the Florida-Georgia game. Packages that include a ticket to the game along with a PlayMaker's Club pass range from $850 to $1,500 apiece. IMG College also has packages for the Rose Bowl and BCS Championship game. Amenities include private restrooms, premium catered buffet, a private pre-game concert, celebrity appearances, wifi and cell phone charging stations, shuttle service to and from the stadium, among other exclusive features. Click here to order tickets.
Boxman Studios was tasked with design, development, logistics, and storage of the massive structure which can be assembled in 30-hours and sits on a 5400 square foot footprint. Capacity for PlayMaker's Club is 250 guests in the climate-controlled section, and 350 total guests including the courtyard areas and upper deck.
About Boxman Studios
Founded in 2009, Boxman Studios offers design, development, and deployment services of customized shipping containers, modifying them for a range of markets and applications around the world. Contact: David Campbell - dcampbell(at)boxmanstudios(dot)com - 704-333-3733 or Don Smyle - dsmyle(at)boxmanstudios(dot)com - 704-333-3733.