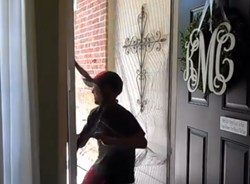 Austin, TX (PRWEB) August 21, 2013
Most retractable screen manufacturers would avoid the question of how well their product might hold up to being walked into - a fate most screens meet eventually.
But not Screen Solutions of Austin, Texas. Quite to the contrary actually. They have just released a new video showing their retractable screen being run into, full speed, by athletic 9-year-old Brett Hall of Cedar Park, Texas.
As demonstrated by the video, the unique and patent-pending design of the Plissé retractable screen allows it to be run into with little effect. After Hall runs into the screen the homeowner simply pushes the pleated fabric back into place, replaces the fabric retainers that popped out, allowing the screen to give instead of tear, and once again the retractable screen door is back in use.
The Screen Solutions Plissé retractable screen is the only retractable screen currently on the market that comes standard with a field replaceable fabric assembly. Simply put, if you actually manage to break it - which several attempts by Hall failed to do - you can simply call up Screen Solutions and they'll ship you out another.
"It's very important to me to build a product I am proud to stand behind," says Douglas J. Bennett, owner of Screen Solutions. Bennett, known online and to his customers as "Doug, the Screen Guy" says that it is an unfortunate reality that most screen doors will be run into eventually. He further explains that he hopes to provide his customers with a quality product that can withstand such use and in the event of breakage be easily and affordably fixed by the homeowner.
Bennett's Screen Solutions Inc was the first to offer affordable quality in retractable door and window screens to the North American market with their Plissé retractable screen debut in 2006.
Today the patent-pending Plissé II retractable screen is new and improved and in full stock at Bennett's central Texas facility, ready to be custom built for each and every customer.
The Plissé Difference
Not all retractable door screens are created equal. The Plissé retractable screen by Screen Solutions demonstrates this with innovations that include die cast aluminum corners, Teflon-infused plastic and a bottom rail dust cover.
Perhaps the most unusual of all features of the Plissé retractable screen is the customer service provided by Screen Solutions. Owner Doug, the Screen Guy, Bennett encourages customer to provide pictures of their openings so he can assist in planning and measuring for their new retractable screen.
There simply aren't any other retractable screen available to the average homeowner that offer the same abundance of features of the Plissé retractable screen: die cast aluminum corners, minimal use of plastics and stainless steel small parts for long life in extreme weather conditions, six standard colors to closely match most exterior trim colors, dual adjustable die cast aluminum handles, Teflon-infused plastic for smooth operation, bottom rail dust cover and DIY replaceable fabric assembly.
All of this is available for less than $200, including free FedEx ground shipping to the lower 48 states, and backed by the Screen Solutions Inc limited lifetime warranty.
To learn more or purchase your own Plisse retractable screen today visit Doug the Screen Guy online at http://www.plissescreen.com.