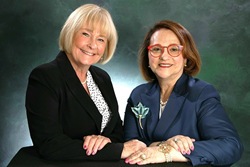 Their firm is currently an all-female powerhouse, focused on resolving family law cases through varied means. . .
Chicago, IL (PRWEB) March 03, 2015
In 2014, Janet Boyle and Joy Feinberg combined their talents to form Boyle Feinberg, a law firm focused exclusively on family law. Their thirty plus years of experience provides clients, contemplating divorce, with expert and elite services. Throughout the years, Janet and Joy have received a variety of awards and both are respected experts in family law. They are a formidable team equipped to give unparalleled service, with a track record of achieving superior results. In addition, each has been selected as a Super Lawyer; a distinction afforded only the very top lawyers.
Through their first year as partners, they assembled a talented team of younger lawyers and paralegals. Their firm is currently an all-female powerhouse, focused on resolving family law cases through varied means, from engaging in alternative dispute resolution techniques, including mediation and collaborative law, to a more traditional practice of effective intervention and divorce litigation. They are exceptionally effective at representing both women and men.
Boyle Feinberg represents business owners, high level executives, doctors, lawyers, CPA's and other professionals, or their spouses. The firm also guides and trains its associates in representing nurses, teachers, government employees, mid-level management and stay-at- home parents. To deliver service, which excels to its clients, a partner, an associate and a paralegal are assigned to each case, to provide their clients with the support and assistance they deserve from a top law firm.
Both women are active in community service. Janet Boyle serves as the Chair of the Northwest Community Hospital Foundation Board in Arlington Heights and hails from Chicago's South Side. She has practiced law since 1978, and has practiced family law exclusively since 1984. In addition, Janet earned her LLM (Master of Laws) in taxation, further expanding her knowledge of all aspects of family law. She writes and speaks locally to the divorce bar.
Joy Feinberg is the President of the USA Chapter of the International Academy of Matrimonial Lawyers. She has written legal chapters on Maintenance for Lexis/Nexis; Child Custody Law, Mental Health Law and Custody Expert Witnesses for the Illinois Institute of Continuing Legal Education and Taxation in Divorce for the Illinois State Bar Association. She lectures nationally and locally. Ms. Feinberg has been President of the American Academy of Matrimonial Lawyers Foundation; President of the Illinois Chapter of the AAML and she has served on the Joint Committee for the National Conference of the AICPA/AAML, since its inception. She was one of four lawyers to draft and finalize the AAML national examination. She has been rated as a top divorce lawyer in Illinois since the awards came into existence. Joy has been practicing law since 1977. She is a Chicago native.
In addition to their Chicago loop office, Boyle Feinberg offers downtown sophistication with suburban convenience at their Arlington Heights location. For more information on Boyle Feinberg or to schedule a consultation, please call 312-376-8860 or visit boylefeinbergfamilylaw.com.
About the NALA
The NALA is a full-service marketing agency providing custom personalized service for small and medium businesses throughout the United States.
PR Contact
Tiffani Tendell
805-650-6121 x361