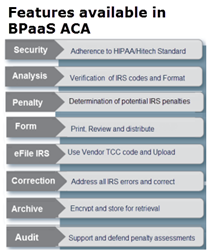 "...Compliance is more than having the correct data." - Ken Phillips
Natick, MA (PRWEB) September 21, 2017
Affordable Care Act (ACA) Reporting and IRS filing for Tax Year 2017 is only months away. Applicable large employers will be required to distribute a Form 1095 to each eligible employee on January 31, 2018 and then file this information with the IRS.
BenefitScape is proud to announce that we are providing several ACA-necessary Business Processes as a Service (BPaaS) over the Internet via a web browser. BPaaS-ACA, the new cloud-based feature, enables employers to obtain all the necessary services (data verification, printing, efiling, penalty assessment, corrections etc.) that are required for accurate and complete ACA Compliance.
BPaaS-ACA is designed to compliment an employer's human capital management (HCM) or payroll system. Many major HCM and payroll vendors provide a software ACA module that will create and manage all of the data required for compliance, including the functionality to print forms and e-file to the IRS. In many cases it is more efficient and economical to utilize a shared business service for these tasks. BPaaS ACA provides this basic functionality as well as many additional features.
"We've had the opportunity to work with many HCM and payroll systems that provide excellent ACA data management. But compliance is more than having the correct data," said Ken Phillips, Principal at BenefitScape. "For the compliance process to be successful, it needs to be completed in a thorough and comprehensive manner. This is why we took the eight individual processes, from data security to auditing, and put them all into a web service available to those clients that can provide us with an XML file."
Each business process available via BPaaS ACA is complex and is based on a thorough analysis and implementation of hundreds of IRS rules and regulations. In many cases these features exceed and are more far-reaching than those available in system software modules. Each function operates in concert with one another and is designed to ensure penalty free compliance.
Why ACA IRS compliance is an excellent candidate for BPaaS
Since the format of the IRS forms and the complex structure of the data required for IRS e-Filing is mandated and governed by strict regulation, all IRS filers have to follow the same pattern. The ACA Compliance tasks can be readily automated and designed to be consumed by many users. This economy of scale creates low unit costs and better quality control of the final product.
With BPaaS-ACA users can obtain business process services on a consumption basis (pay for what you use) through a shared set of resources (people, application, and infrastructure) from a single provider. Since many users can use the same process via the cloud there is significant cost savings to users. Read more about BPaaS-ACA here.
Here is how BPaaS-ACA works: First, the employer's HCM or payroll software's ACA module aggregates the ACA related employee data and generates a data file, (often in XML format). Then, this file is consumed by BenefitScape as a restful web service. All of the services required to complete the business process are then provided from the Cloud. This includes access to the entire stack of technologies required.
BPaaS Defined
Gartner defines Business Process as a Service (BPaaS) as the delivery of business process outsourcing (BPO) services that are sourced from the cloud and constructed for multitenancy. Services are often automated, and where human process actors are required, there is no overtly dedicated labor pool per client. The pricing models are consumption-based or subscription-based commercial terms. As a cloud service, the BPaaS model is accessed via Internet-based technologies.
If you're looking for a strong starting point for this conversation, try the BPaas Overview available at http://www.IRSAIR.com.
About BenefitScape
BenefitScape is an agile platform developed to address the requirements of the Affordable Care Act (ACA). It is designed to help employers handle the complexity of compliance with the ACA, in particular with the record keeping, filing and reporting that compliance requires. Particular emphasis is on the BenefitScape platform flexibility to manage client data in a wide variety of formats from multiple sources. The VeriTracACA© feature monitors and verifies employee data in real-time providing instant notification of non-compliance with ACA information requirements. BenefitScape focuses on supporting the entire business process connected to successful compliance, not just publishing and e-filing; this includes remediation of the data, employee form reissue, error correction etc. Visit http://www.benefitscape.com to learn more and get started on your Tax Year 2017 ACA Compliance.