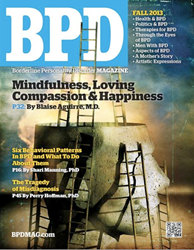 Having choices of approaches, strategies and resources in crafting a treatment approach that works for the individual suffering from Borderline Personality Disorder is the essence of a favorable therapeutic outcome. ~ Dr. Robert Fischer
Woodland Hills, CA (PRWEB) November 14, 2013
"Men with Borderline Personality Disorder," an article by Dr. Robert F. Fischer, is currently featured in the inaugural issue of Borderline Personality Disorder Magazine. This new publication bills itself as "The World's First Print Magazine Dedicated To Putting Out The Most Accurate and Helpful Information on Borderline Personality Disorder." Dr. Fischer, co-founder and Executive Director of the Optimum Performance Institute (OPI) and its Roanne Program division, which is dedicated specifically for those with BPD, is a child, adolescent and adult psychiatrist with nearly 35 years of experience helping families, including those with BPD. His article contribution in BPD Magazine accompanies others in the brand new publication written by MDs, PhDs, counselors, best-selling authors, and those who live with BPD in one way or another.
The launch of the magazine coincides with a growing public awareness and desire to have more information available about Borderline Personality Disorder, along with other mental health disorders. A year ago, Debbie Corso, who has been diagnosed with BPD, started an online journal called, "Healing from BPD." This new blog site has already received more than 500,000 visitors, further demonstrating the increasing need to make resources available for sufferers and family members of those with BPD.
In addition to the publication of his article in the new magazine, Dr. Fischer and the team at OPI decided to sponsor an opportunity for readers of the Healing from BPD blog site to obtain a free copy of the e-book written by Corso, "Healing from Borderline Personality Disorder: My Journey Out of Hell Through Dialectical Behavior Therapy." Ten copies of Corso's book are being given away this month through OPI's Roanne Program Facebook fan page.
In an earlier review, Dr. Fischer stated that "the authenticity, directness and clarity of the shared internal experiences in this book give life, meaning and understanding to clinical terms such as 'splitting' and 'translating DSM symptoms' to a complex and unique person. I share Debbie's views that there is not one approach that works for everyone suffering from BPD. From a clinician's perspective, having choices of approaches, strategies and resources in crafting a treatment approach that works for the individual suffering from Borderline Personality Disorder is the essence of a favorable therapeutic outcome."
Corso, who began "Healing from BPD" in order to reach out to others suffering from this debilitating disorder of emotional dysregulation, was diagnosed with BPD, but has since officially recovered through the use of a number of different treatment models including Dialectical Behavior Therapy, also known as DBT. After writing her book and gaining widespread recognition, Corso teamed up with Dr. Fischer and OPI's Roanne Program to increase the website's ability to reach out and offer help and information to other BPD sufferers and their families.
The Roanne Program, located in Woodland Hills, California, is a highly therapeutic, residential, and educational transition program for men and women ages 17-28 who struggle with BPD. The Roanne Program is specifically designed for both women and men with BPD, and was named "Best in Treatment" by Psychology Today Magazine two years running.
In 2011, Psychology Today Magazine published that BPD is an under-diagnosed disorder within the male population and the prevalence among men and women could be as high as fifty-fifty. Historically, BPD has been diagnosed three times as often in women as in men. Issues for this imbalance mentioned include the cultural influences around men sharing emotional vulnerabilities, actual misdiagnosis and the fact that men simply seek professional help less often.
The Roanne Program is one of the few residential programs in the world specializing in the treatment of young adult men with Borderline Traits, Borderline Personality Disorder and co-occurring conditions. Most residential programs that treat BPD only offer services for women, but an astounding number of young men also suffer as Dr. Fischer's article indicates, including Brandon Marshall, professional football player and wide receiver for the Chicago Bears.
Marshall, who revealed in 2011 that he had been diagnosed with BPD, recently wore neon green cleats during a game against the New York Giants to bring attention to World Mental Health Day. While he was fined for being out of uniform, he gladly matched his fine and donated the sum to several mental health organizations. Marshall's struggles with BPD have led him to create his own non-profit foundation to educate the general public about mental health issues of all types and to advocate for public policy solutions. As his foundation notes, mental illness affects "1 in 4 individuals." Marshall hopes to help, "…those who have suffered in silence, who spent years of their lives feeling trapped by their own emotions, and who once thought that they had reached a place beyond hope," and give them, "…the opportunity to build a better life for themselves."
The efforts by Marshall, Corso, BPD Magazine, Dr. Fischer and the Roanne Program at OPI –all developed within the last few years– indicate a growing need to openly communicate, support and treat mental health issues around BPD.
Visit http://www.RoanneProgram.com for more details on the Roanne Program, BPD treatment models, resources for parents and referring therapists, as well as information on their Intensive Outpatient Program.