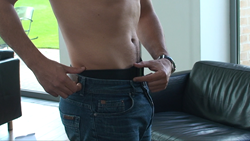 Dr. Allen's Device treats the prostate gland safely, helping men to maintain a normal life and, moreover, avoid unnecessary costs of BPH medications.
London, GB (PRWEB) June 28, 2014
Supporting men's general health, Fine Treatment recommends Dr. Allen's Device which helps to terminate prostate growth and reverse benign prostatic hyperplasia (BPH) naturally. It is a superb treatment option currently available for USD155. In contrast, Rapaflo, a new BPH medication, is more expensive but does not differ much from older generic alpha blockers, notes Dr. Levine referring to the guidelines for the American Urologic Association.
Dr. Evan Levine, author of 'Real Medicine: Say no to Rapaflo!' article in The Ridgefield Press of June 25, 2014, also shares a story: 'A patient came to me recently with a prescription for Rapaflo, given to him by his urologist. He was told not to fill it until he reviewed the medication and its risks with me, his heart doctor. "Is it dangerous for my heart?" he asked. "No, but it is dangerous to your wallet," I told him. I handed him a prescription for generic Flomax and suggested he take that instead.'
A concern over pharma companies paying doctors for prescribing medications was voiced by Aidan Lewis, in the BBC News, Washington, earlier this year. According to the article titled "Should drug firms make payments to doctors?," "A recent study by three US economists found that a doctor receiving payments from a pharmaceutical firm was more than twice as likely to prescribe its drugs, compared to doctors receiving no payments." Using data from more than 330,000 doctors and 12 pharmaceutical firms, it identified 58% as having received payments. It found that payments were unlikely to represent significant opportunities to educate doctors about new drugs, and that financial gain appears to be an important motive for doctors.
"Medications are not only expensive but ineffective and risky when used as a long-term treatment for enlarged prostate," notes Dr. Simon Allen. "If taken at all, any BPH drug should be used for only a short period of time."
Contrary to medications, Dr. Allen's Device for Prostate Care helps to ease the nasty symptoms of BPH by reducing prostate enlargement naturally. Here you can watch a short informative video on how the therapy with Dr. Allen's Device works: http://www.youtube.com/watch?v=V5xidswhxJM.
"At Fine Treatment, we're making Dr. Allen's Device or Prostate Care as cost-effective as possible, so that men from all over the world can benefit from this harmless and remarkably helpful treatment method," says Dr. Simon Allen. "We are pleased with the user feedback on the treatment efficacy. Dr. Allen's Device treats the prostate gland safely, helping men to maintain a normal life and, moreover, avoid unnecessary costs of BPH medications."
For details, visit Fine Treatment at http://finetreatment.com/bph-treatment-prostate-enlargement.
About Dr. Simon Allen and Fine Treatment:
Dr. Simon Allen, MD, PhD, Academician, member of the ATA, is a highly experienced medical professional. His specialty is in internal medicine. He has treated a wide range of chronic diseases, including patients after a heart attack, stroke, with kidneys problems, including kidney stones disease, prostate and spine conditions, as well as metabolic disorders.
Fine Treatment ensures international availability of Dr. Allen's Devices for the treatment of chronic prostatitis and BPH, coronary heart disease, for dissolving kidney stones, for a powerful relief of upper and lower back pain and sciatica, as well as for natural brain function support.