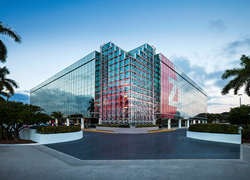 Zimmerman will help transform the Hollywood, Fla.-based company into an iconic national brand, develop and execute an omni-channel retail strategy and rapidly grow its business.
Fort Lauderdale (PRWEB) March 12, 2015
BPI Sports, the world's fastest-growing sports nutrition company, announced today that it has selected Zimmerman Advertising, one of the nation's leading retail agencies, as its agency of record. The account is valued at $15 million annually.
Zimmerman will help transform the Hollywood, Fla.-based company into an iconic national brand, develop and execute an omni-channel retail strategy and rapidly grow its business.
"Hiring an ad agency is a key ingredient to significantly grow our business, establish BPI Sports as the premier sports nutrition brand, and position our company as an iconic, multi-channel business" said James Grage, co-founder and executive vice president of BPI Sports, "Most agencies are full of smoke and mirrors and don't deliver on what they promise. It was refreshing to finally find one who's as good at making ads as they are at making money for their clients. I have no doubt Zimmerman will generate powerful results for BPI."
"I believe in BPI's products, business, leadership and what the brand stands for. It is the first supplement company to hire an independent company, ChromaDex, to authenticate and validate that what's on the label is in the product. It's these kinds of strengths and values that are the foundation for building an iconic brand," said Jordan Zimmerman, Founder and Chairman of Zimmerman Advertising. "I have extremely high aspirations for BPI. I will not be satisfied until every health and sports enthusiast in the U.S. knows how far superior BPI's products are and how outstanding its brand is."
"We work best with fighters – people that, no matter how successful they are, have something to prove. People, like us, who are relentless, impatient, demanding, and driven. Let's just say it was a match made in heaven," said Michael Goldberg, CEO of Zimmerman Advertising. "I know this is the beginning of a great partnership that will accomplish great things."
Today's announcement comes just days after American Media, Inc., the leader in health and fitness content, selected Zimmerman as its agency to help transform and grow its business, specifically its health and fitness brands, including Men's Fitness, Muscle & Fitness, Muscle & Fitness Hers, and Flex. Zimmerman has deep experience working with food, restaurants and nutrition products and brands. Previously, the agency did work for Vitamin Shoppe; Smart for Life Weight Management Centers and ShopKo.
Zimmerman Retail Clients
Zimmerman's clients represent some of the most prominent retail brands in the country, including hhgregg, Nissan, Party City, Dunkin' Donuts, Tire Kingdom, AutoNation, Firehouse Subs, Boston Market, Extended Stay America and Michaels.
About Zimmerman Advertising
Zimmerman Advertising, an Omnicom Group company, is the leading integrated, retail agency in the country. Headquartered in South Florida, the agency has retail service offices throughout the country, including New York, Los Angeles, Chicago, Dallas and Nashville. For information on the agency, visit http://www.zadv.com.
About Omnicom Group
Omnicom Group is a leading global marketing and corporate communications company. Omnicom's branded networks and numerous specialty firms provide advertising, strategic media planning and buying, direct and promotional marketing, public relations and other specialty communications services to over 5,000 clients in more than 100 countries.
About BPI's Products
BPI's line of protein powders, include Best Protein™, ISO-HD™, Bulk Muscle, and Weight Loss Whey™.
About BPI Sports
BPI Sports, based in Hollywood, Fla., is a leading developer, formulator and marketer of branded sports nutrition supplements, primary for athletes and bodybuilders, sold through leading specialty retailers and distributors. For additional information, please visit https://bpisports.com