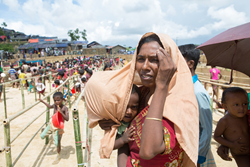 NEW YORK, NY. (PRWEB) October 12, 2017
Emergency response field staff with BRAC, the Bangladesh-based NGO leading humanitarian efforts on the ground in Bangladesh, have observed a new surge of forcibly displaced people from Myanmar streaming across the border in the last few days.
BRAC leadership is available to discuss the crisis that shows no sign of abating – and, in fact, is growing worse.
With half a million displaced people having already arrived amid reports of atrocities, this new surge compounds an already complex humanitarian crisis on the ground, disrupting ongoing relief efforts.
BRAC has built thousands of latrines, hundreds of tube wells and more than 50 child-friendly spaces and emergency health clinics that see thousands of children and patients every day.
Please contact Emily Coppel or Matt Kertman at BRAC USA in New York to arrange interviews or for more information.
See response.brac.net for additional resources.
BACKGROUND
In response to the ongoing crisis in Myanmar that has led to more than 500,000 people fleeing to Bangladesh since August 25, BRAC, a Bangladesh-based NGO with over forty years of experience in emergency response and development, is leading humanitarian relief efforts on the ground, and has reached more than 250,000 recent arrivals.
While BRAC works to support all marginalized people, in keeping with an organizational strategy, it focuses first on meeting the needs of children, people with disabilities, adolescent girls, and pregnant and new mothers.
As thousands more forcibly displaced families from Myanmar arrive daily, concern for malnutrition, sanitation, and disease soars.
BRAC is scaling up its humanitarian relief activities, focusing on maternal and child health, water, sanitation and hygiene, and keeping children safe. The organization aims to meet the immediate needs of at least 300,000 new arrivals in the coming days.
BRAC began initial work in the makeshift settlement communities in Ukhia and Teknaf sub-districts in January of this year, providing child protection services through the establishment of three child friendly spaces. In early September, the organization expanded into waster, sanitation, and health support.
Currently, the organization is working in both spontaneous new settlements and existing makeshift settlements, including in Kutupalong, Lambasia, Balukhali, Thaingkhali, Kutupalong Extension, Baharchara, Unchiprang, Moynarghona, Hakimpara, and Jamtali.
BRAC is working closely to support the Government of Bangladesh and coordinating with the Bangladesh Army and local officials. It also regularly participates in national and regional cluster meetings for a variety of sectors to ensure strong relationships and effective coordination, and contributes to the Inter-sectoral Working Group weekly situation report.
Urgent health needs
The pink vests worn by more than 700 BRAC staff have become recognizable throughout the settlements, where it has set up more than 60 mobile health camps and, with support from the Bangladesh Army, ten stationary clinics with medical doctors on site. More than 5,000 women now receive prenatal care from BRAC.
Community health workers are helping to ensure that pregnant women receive regular prenatal care, have safe deliveries, and can access postnatal care. Anticipating future needs, BRAC is building ten maternity clinics to offer safe and healthy spaces for delivery.
Keeping children safe
With so many families arriving in a state of crisis, there are concerns about child trafficking and abuse. BRAC has built 56 child-friendly spaces to keep children safe from exploitation and help establish a sense of normalcy. Staff in these spaces receive advanced training in psychosocial support and child development and work with more than 4,000 children every day to help them learn and heal.
Preventing outbreak
Health is also a concern in the settlements, where there are no formal sewage and sanitation systems, and thousands live under plastic tarps without adequate shelter from the elements.
BRAC is installing tube wells and latrines to ensure access to safe drinking water and proper sanitation. As of October 10, an estimated 241,000 are accessing clean water from one of the organization's 943 tube wells. Among them, 144,500 also have access to sanitation from the 3,614 latrines installed by BRAC.
In addition, the organization is delivering children's clothing, tarps, sleeping mats, solar lamps, buckets, water buckets, and sanitary napkins, seeking to meet the compounding needs of families as they arise.
Next steps
With the onset of winter, many still lack adequate shelter, clothes, and light sources for nighttime warmth and security. This particularly affects women and children, who are especially vulnerable.
As the population swells and shifts, simply locating people and ensuring that they have continuous access to services requires constant on-the-ground assessment. Many, like the elderly and disabled, remain out of sight.
With a new surge of arrivals now swelling, it is certain that the situation will continue to require the expert knowledge of a local organization like BRAC, coupled with the additional resources to respond and scale quickly.
NOTES TO THE EDITOR:
To arrange an interview opportunity, coordinate a field visit, or access up-to-the-minute data, please contact a member of our communications team below:
US:
Emily Coppel, Communications Manager
Office: (212) 808-5615
Email: emily(at)bracusa(dot)org
Matt Kertman, Senior Communications Associate
Office: (917) 409-2463
Email: matt(at)bracusa(dot)org
Bangladesh:
Shararat Islam, Senior Manager, Communications and Outreach
Office: +880 2 9881265 Ext-3155
Mobile: +88 01711739852
Email: shararat.is(at)brac(dot)net
About BRAC
BRAC was founded in Bangladesh in 1972, and today is a global leader in developing cost-effective, evidence-based poverty innovations in extremely poor, conflict-prone and post-disaster settings. These include programs in education, healthcare, microfinance, girls' empowerment, agriculture, human and legal rights, socially responsible businesses, a bank, a university, and the world's largest mobile money platform. In 2016, BRAC employed more than 110,000 people in 11 countries, with a total global expenditure of more than $1.1 billion.
BRAC was ranked the #1 NGO in the world in 2016 and 2017 by NGO Advisor, and consistently ranked in the top three NGOs globally in 2013-2015. According to Nicholas Kristof, BRAC in Bangladesh "is the best aid group you've never heard of."
About BRAC USA
Based in New York, BRAC USA serves a critical purpose as the North American affiliate of BRAC, building awareness of the important work in 11 countries around the world, and mobilizing resources to underpin programs.
The mission of BRAC USA is to empower people and communities in situations of poverty, illiteracy, disease and social injustice. Our interventions aim to achieve large-scale, positive changes through economic and social programs that enable everyone to realize their potential.