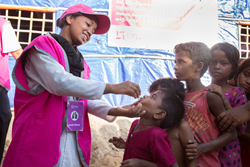 "We're proud to have played such a vital role in this life-saving campaign," said Dr. Muhammad Musa, executive director of BRAC.
New York, NY (PRWEB) October 17, 2017
The world's second largest oral vaccination campaign ended yesterday on a highly successful note. With a target set to immunize 650,000 people in Cox's Bazar, the joint efforts of both public and private aid providers helped exceed the initial goal – reaching about 680,000 individuals.
The campaign, which was led by the Ministry of Health and supported by the World Health Organization (WHO), UNICEF and BRAC, covered the Ukhiya and Teknaf sub-districts, where more than 500,000 people have arrived since late August.
Dr. Muhammad Musa, executive director of BRAC, said "We're proud to have played such a vital role in this life-saving campaign."
The cholera immunization campaign was implemented to protect both new arrivals and host communities from the life-threatening diarrheal disease. More than 200 mobile vaccination teams across Cox's Bazar, including 90 from BRAC, received over 900,000 doses of the vaccine. Together, about 679,000 individuals were immunized, of which BRAC directly administered 167,000 – or about 25 percent of all immunizations.
According to WHO estimates, this may be the second largest oral vaccination campaign in history. The largest took place in Haiti in 2016.
"The potential outbreak of cholera is a real risk, as most of the arrivals from Myanmar are living in crowded, unhealthy, and swampy areas," said Dr. Musa. "They have an inadequate supply of clean water and poor access to toilets. They are extremely vulnerable to water-based diarrheal diseases."
BRAC is also providing health care services throughout all the makeshift settlements through 60 mobile health camps and 10 stationary camps. It has ensured access to clean water for more than 275,000 and access to hygienic latrines for more than 400,000.
Over 700 BRAC employees from around the country are currently providing healthcare, clean water, and sanitation aid, as well as safe spaces for women and children. BRAC is collaborating with the International Organization for Migration (IOM), UNICEF, WFP, AUSAID, DIFD and Global Fund.
BRAC leadership is available to discuss the crisis that shows no sign of abating – and, in fact, is growing worse.
With well more than half a million displaced people having already arrived amid reports of atrocities, the recent surge of new arrivals compounds an already complex humanitarian crisis on the ground, disrupting ongoing relief efforts.
BRAC has built thousands of latrines, hundreds of tube wells and more than 50 child-friendly spaces and emergency health clinics that see thousands of children and patients every day.
Please contact Emily Coppel or Matt Kertman at BRAC USA in New York to arrange interviews or for more information.
See response.brac.net for additional resources.
###
NOTES TO THE EDITOR:
To arrange an interview opportunity, coordinate a field visit, or access up-to-the-minute data, please contact a member of our communications team below:
US:
Emily Coppel, Communications Manager
Office: +1 (212) 808-5615
Email: emily(at)bracusa(dot)org
Matt Kertman, Senior Communications Associate
Office: +1 (917) 409-2463
Email: matt(at)bracusa(dot)org
UK:
Chris Lyne, Communications Manager
Office: +44 (0)203 434 3072
Email: chris(at)bracuk(dot)net
Bangladesh:
Shararat Islam, Senior Manager, Communications and Outreach
Office: +880 2 9881265 Ext-3155
Mobile: +88 01711739852
Email: shararat.is(at)brac(dot)net
About BRAC
BRAC was founded in Bangladesh in 1972, and today is a global leader in developing cost-effective, evidence-based poverty innovations in extremely poor, conflict-prone and post-disaster settings. These include programs in education, healthcare, microfinance, girls' empowerment, agriculture, human and legal rights, socially responsible businesses, a bank, a university, and the world's largest mobile money platform. In 2016, BRAC employed more than 110,000 people in 11 countries, with a total global expenditure of more than $1.1 billion.
BRAC was ranked the #1 NGO in the world in 2016 and 2017 by NGO Advisor, and consistently ranked in the top three NGOs globally in 2013-2015. According to Nicholas Kristof, BRAC in Bangladesh "is the best aid group you've never heard of."
About BRAC USA
Based in New York, BRAC USA serves a critical purpose as the North American affiliate of BRAC, building awareness of the important work in 11 countries around the world, and mobilizing resources to underpin programs.
The mission of BRAC USA is to empower people and communities in situations of poverty, illiteracy, disease and social injustice. Our interventions aim to achieve large-scale, positive changes through economic and social programs that enable everyone to realize their potential.