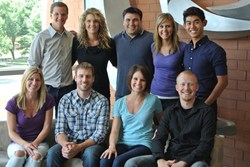 Cedar Falls, Iowa (PRWEB) August 15, 2013
BraceAbility, a leading retailer of affordable orthopedic supplies, added seven interns to its team this summer to improve the user experience for its customers and to provide college students the opportunity to gain workforce experience in their fields of interest. This experience will give them an edge when they enter the job market after graduation and it may help them zero-in on what career path they will pursue. Also, several of these internship positions have the potential for turning into full-time positions following graduation.
BraceAbility is happy to give back to the University of Northern Iowa community by hiring students from the college. The school's Innovation Incubator recently opened its doors to BraceAbility, enabling the company to take advantage of the many resources this center offers small businesses.
One of the BraceAbility internship opportunities is the role of operations manager. Andrea Huffman has been selected fill this slot, replacing a graduating student whose experiences at BraceAbility helped him land a sales job in the Des Moines area. Huffman has not shied away from leadership roles during her time studying business management/administration at UNI. She also has an impressive sales record in her previous places of employment.
BraceAbility has also hired a student for an online merchandising internship this summer. Brittany Wirtz, a marketing major at UNI, has previous internship experience with designing, blogging and engaging in market research that makes her well-suited for this role. As the merchandising intern for the company, Wirtz is responsible for adding new products to BraceAbility's inventory as well as managing the company's existing selection. To do so, she researches the BraceAbility product catalog to determine both the needs of the audience and the products available to fit that need. Wirtz has worked closely with vendor sales reps to make this happen, gaining real-world digital sales experience in the process.
The third position for which BraceAbility has hired 5 interns this summer is for online marketing. These interns are gaining real-world digital marketing experience and training on search engine optimization (SEO) from professionals at BraceAbility. Knowledge of SEO, or optimizing a website for search engines, is increasingly becoming a job requirement in the marketing industry. Thus, these interns are developing a valuable skill set, not to mention experience that will enhance their future job prospects.
Alyx Sandbothe has employed her design, photography and video skills to improve the visual and video components of the website. Sandbothe's skill in such areas have been developed during her time as a designer and screen printer at Iowa Sports Center; they have also helped her land such positions as the vice president of the Grafx Club at UNI.
As online marketing interns, Kenny Ooi, Cody Rohlf, Trevor Carlson, and Aaron Terrones have focused their efforts primarily on improving BraceAbility's website for search engines. Ooi draws upon his experiences as a marketing manager at Legenda Education Group in Malaysia for this role, where he was instrumental in improving department forms and was involved in both the design and marketing end of the university's promotional efforts.
Rohlf's work experiences point to his strong work ethic and trustworthiness. He has also "done it all," so to speak with the UNI Ultimate Frisbee Club. He has served as head of recruiting, treasurer, president and captain of the team—roles in which he developed his organizational, recruiting and people skills.
Trevor Carlson has been an entrepreneur for many years now, most recently owning a food cart business as well as an eBay store. He's currently finishing up his degree in Psychology from UNI and honing new business ideas as a tenant of UNI's Student Business Incubator on campus.
Aaron Terrones recently completed a degree in History from UNI and was previously a member of the US Marine Corp serving a tour in Iraq. Terrones is pursuing the internship to gain valuable experience in a new field that interests him and hopes to apply it someday to a new work experience or business of his own.