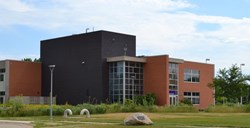 Cedar Falls, IA (PRWEB) August 20, 2013
To accommodate its growing team and inventory, BraceAbility.com, a leading retailer of affordable orthopedic supplies, recently moved into an office with the University of Northern Iowa Innovation Incubator. This move grounds the e-commerce company at an official place of business and allows employees to tap into the resources offered by this facility, which is specifically designed to be "gateway between the private sector, the business community and the expertise of faculty and staff on campus."
Shaun Linderbaum, CEO of BraceAbility, says, "We are all excited about the move into this state-of-the-art facility. UNI's Innovation Incubator truly offers start-up companies the tools and resources they need to thrive in a cost-effective manner. I look forward to the acceleration in company growth and the development in relationships that this move affords."
The move is timely as seven interns joined the BraceAbility team this summer and there have been several staff additions over the past year. Linderbaum says the move will also improve the business' customer service and bottom line as BraceAbility will be able to stock more of its own line of orthopedic braces, such as it's popular plus size knee brace, in Cedar Falls.
The business incubator consists of 13 fully furnished office suites as well as shared conference facilities and a kitchen area. The business space also features a part-time receptionist and facility-based services such as mail, fax, printing and the like. The center is conveniently located in the Business and Community Services Building on the UNI campus and it is open around the clock for members of the Innovation Incubator.
In joining the Innovation Incubator community, the BraceAbility team will have access to technical assistance and training, an advisory team that is made up of both students and business professionals as well as convenient access to all of the resources UNI has to offer. Joining this UNI business community will also allow for networking opportunities with other tenants taking advantage of the Innovation Incubator as well as more face-to-face interaction between the team members at BraceAbility.
Director of the UNI Regional Business Center Maureen Collins-Williams explains, "We've found that businesses who participate in our incubator programs have reduced risk associated with their start-up and their growth is accelerated. The comprehensive array of services we've developed for tenants at the Innovation Incubator are some of the best in the country."