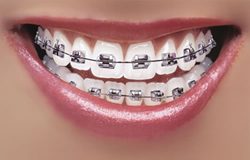 Children are needing braces earlier than in previous decades. Columbia Orthodontics can help parents explain braces to their children.
Vancouver, WA (PRWEB) September 07, 2015
Columbia Orthodontics is an Orthodontist in Vancouver, WA, that recently released a series of blog posts discussing the recent phenomenon of children needing braces earlier than in previous decades, as well as how parents can explain braces to their children.
These posts can be found here and here.
In the first post, Columbia Orthodontics discusses that they are often asked why children seem to be receiving braces earlier and earlier. In previous years, the majority of people with braces were teenagers, but that is beginning to change. At the first sign of over crowding teeth or if adult teeth are showing up early, Columbia Orthodontics wants customers to have a consultation with a reputable orthodontist, such as their own Dr. Croft. Barring signs of trouble or early adult teeth as mentioned above, the time that a child needs to be seen for initial orthodontic evaluation depends not so much on actual age, but on what they describe as a "dental age."
Columbia Orthodontics says, "The dental age of the patient might be entirely different from his or her actual chronological age; for example, an eight-year-old could have a dental age of 13. Dr. Croft will take the time to determine the dental age of your child and then make appropriate recommendations for the resolution of any orthodontic issues that might be emerging."
They also explain that the American Association of Orthodontists recommends that children should see an orthodontist somewhere between the ages of seven and nine. This is because many teeth growth patterns can be predicted even if they do not have all of their permanent teeth yet.
The second post discusses how a parent should talk to their children about braces. They have likely heard about braces through classmates or family members, and hearing this information secondhand may leave them nervous and scared of the process.
Getting braces may be a scary experience for kids, even more so if they have heard some exaggerated stories. For this reason, Columbia Orthodontics wants parents to know some tips for calming their fears. They say the best thing a parent can do is to give their child as much information as possible about the process. The blog says, "Many kids fear the unknown but by explaining as much as you can about the process and treatment, you can help your kids be more prepared."
Children should know that no shots are involved in the process, and while it can be uncomfortable, it can also be fun. Traditional braces offer a bit of personalization through adding some color at each appointment.
Columbia Orthodontics wants children to be prepared for this experience and to look forward to each appointment. Contact them to learn more.