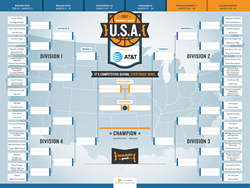 Thousands of people will learn about and support charitable organizations for the first time, which has a profound and lasting impact on that individual, the organization receiving support and the community as a whole.
INDIANAPOLIS (PRWEB) February 23, 2017
This March, 64 nonprofits around the country will have the opportunity to win $100,000 through Brackets for Good USA, a national competitive fundraising tournament.
Indianapolis-based Brackets For Good pairs with corporate and nonprofit sponsors to host online, bracket-style fundraising tournaments in philanthropic communities around the United States. To date, Brackets For Good has raised more than $2.75 million for local charities since its 2012 kick-off contest in Indianapolis.
Thanks to AT&T, Brackets For Good will host its first-ever national tournament this year. The 64 nonprofits participating in Brackets For Good USA represent some of the country's leading names in philanthropy, including Alex's Lemonade Stand, Girls Who Code, Keep America Beautiful, Teach for America, Trevor Project, World Food Program USA and more.
"Thousands of people will learn about and support charitable organizations for the first time, which has a profound and lasting impact on that individual, the organization receiving support and the community as a whole," said Matt McIntyre, Co-Founder & Executive Director of Brackets for Good.
"The Brackets For Good USA tournament allows us to use the power of AT&T's network to help nonprofits across the country grow and scale.," said Beth Shiroishi, vice president, Global Corporate Social Responsibility, Strategy & Insights at AT&T. "Brackets For Good's approach to fundraising is an innovative way to activate consumers' competitive spirit and connect them with organizations doing important work in their communities and across the country. We're proud to support the first-ever national tournament and encourage everyone to get in on the social good that comes from competitive giving."
How the Tournament Works
Participating nonprofit organizations will rally enthusiastic donors to out-fundraise their opponents in order to advance. Through the excitement, tournament promotion, and corporate involvement, nonprofits earn increased exposure, gain access to free fundraising tools, and are introduced to new donors. Dollars from donors translate to points, giving participants the opportunity to advance in each market bracket. Competing nonprofits keep donations received during tournament play, no matter how many rounds they advance. The winning organization in each tournament receives an additional Championship grant. Thanks to presenting sponsor AT&T, the champion of Brackets For Good USA will receive an additional $100,000 contribution.
How to Get Involved
Starting on Feb. 24, visit BFG.org to make online donations to help your favorite nonprofit organization advance to the next round and get one step closer to the championship grant ($10,000 for city-based tournaments, $100,000 for Brackets For Good USA). $1 equals one point.
Nonprofits participating in Brackets For Good USA 2017 presented by AT&T are listed at usa.bfg.org.
"We know that our crisis intervention and suicide prevention services change and save young lesbian, gay, bisexual, and transgender lives on a daily basis," said Trevor Project Interim Executive Director Steve Mendelsohn. "Participating in Brackets for Good will help to showcase the organization to a wider audience and bring The Trevor Project front of mind for people who may need or recommend or our services. Dollars donated go directly toward expanding and improving our programs and services that focus on ending suicide among LGBTQ youth."
"Brackets for Good offers Americans a chance to have some fun, show their competitive side and make a real difference in the lives of hungry kids around the world by donating to World Food Program USA," said Erin Cochran, Vice President of Communications. "What could be better than that?"
"Brackets For Good exists because we believe the world is a better place when more people discover charitable organizations that align with their values and then become fans in support of those organizations'," said Reid McDowell, Partnerships & Marketing Director of Brackets For Good.
New markets in 2017
Brackets For Good is pleased to announce it has recently expanded into six new local markets (and their surrounding areas), bringing the grand total to 11 city-based tournaments plus a national bracket for the 2017 tournament. Across the 11 city-based tournaments and the nationwide tournament, over 680 nonprofits will be participating in Brackets For Good tournaments in 2017.

National – inaugural year
Baltimore, Md. – inaugural year
Cincinnati – inaugural year
Denver – inaugural year
Hartford, Conn. – inaugural year
Miami – inaugural year
Nashville – inaugural year
St. Louis – returning for a second year
Ann Arbor, Mich. – returning for a second year
Minneapolis – returning for a second year
Louisville, Ky. – returning for a third year
Indianapolis – returning for the sixth year
2017 Partnerships
Beyond raising dollars for nonprofits, Brackets For Good makes it a priority to activate new donors and offer support to nonprofits. The organization has brokered partnerships with other organizations to help participating nonprofits beyond the tournament itself.
Lids, the leading sports licensed retailer, partnered with Brackets For Good and is giving up to 10,000 fans $3 to donate to the nonprofit of their choice participating in the 2017 Brackets For Good tournament. By completing their Donor Profile, now presented by Lids, donors will be awarded $2 via a promo code to donate to the competing charity of their choice. Once completed, donors will be prompted to "make it a 3-point play" and will get one additional dollar to donate by sharing a tweet composed by Lids.
Bohlsen Group will again be Brackets For Good's national public relations partner for the 2017 tournaments. In 2016, the partnership generated 18,500,000+ earned media impressions within the tournament markets, which contributed to increased awareness for the participating nonprofits. Again in 2017, Bohlsen Group will help spread the excitement of Brackets For Good to further raise awareness and funds for the competing charities.
Lessonly has partnered with Brackets For Good to deliver the Brackets For Good Training Camp, a suite of digital trainings that empowers nonprofits across the country to be more capable fundraisers. With topics ranging from Social Media Marketing to Mobile Marketing, these free resources equip and train nonprofit fundraisers so they can better financially sustain their organizations' missions both during and outside of the Brackets For Good tournament.
About BRACKETS FOR GOOD
Brackets For Good is an Indianapolis, IN based 501(c)3 charitable organization focused on activating new donors, and increasing awareness for other nonprofit organizations through competitive, online fundraising at no cost. Since the inaugural tournament in 2012, new awareness, fundraising capacity, and over $2.75 Million dollars has been raised for hundreds of charitable organizations across the country in an innovative and fun way. For more information, visit bfg.org.
# # #