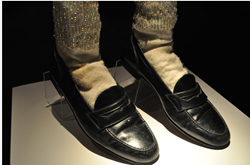 Performer Brad Johnson has announced that BAD - his one man ballet based on the fictional relationship between Dr. Conrad Murray and Michael Jackson will open in Simi Valley, CA this holiday season.
Simi Valley, CA (PRWEB) June 25, 2014
To mark the fifth anniversary of Michael Jackson's death, performer Brad Johnson has announced that his one man ballet "BAD" based on the life of Michael Jackson, will open this holiday season in Simi Valley, CA.
The one man ballet, Johnson's third such show, will trace the life of the King of Pop from his humble beginnings in Indiana, to the day that he died while under the care of Dr. Conrad Murray in 2009.
"I can't believe it's been five whole years since the King passed," said Johnson. "In my mind there is no better way to honor MJ than to tell his story - the way he would have wanted it – through semi-nude interpretive dance."
While Johnson hopes that the Jackson family would approve of his ballet he wants to make it clear that he is not affiliated with them in any way. "People associate greatness with Michael Jackson, but I want to make it clear that my show is not approved by the family – I want people to know that this work of greatness was all the work of me and me alone."
Johnson's "greatness" also includes an original score of music inspired by Jackson, "Using Michael's music would just be too expensive so I decided I would just make my own music… I'm fairly confident that when people hear my score they will feel the love that is inspired by the King of Pop."
Johnson is currently negotiating with multiple venues and hopes to announce specific performance dates and ticket on sale dates soon.