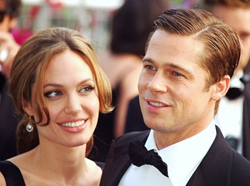 Should Pitt and Jolie ever find themselves in divorce court, and we hope that they never do, their prenuptial desire to split and walk away with their separate assets intact may not be honored by the court.
Boston, MA (PRWEB) September 29, 2014
One of the most anticipated weddings of the 21st century quietly took place in late August at a lavish, yet secretive vineyard estate in the south of France. Brad Pitt and Angelina Jolie are the most talked-about couple in show business, and their impending marriage was a topic that was discussed ad nauseam for about nine years. Details about their wedding have been mostly anticlimactic; quoting Associated Press reports, CBS News explained that Pitt and Jolie exchanged vows during a very intimate ceremony in a French vineyard estate(1).
The Associated Press revealed additional details about this celebrity wedding on its Big Story online news magazine(2). The wedding took place on a Saturday afternoon at Chateau Miraval, which is a 35-bedroom estate that Pitt and Jolie purchased in 2008 after exercising an option to buy that lasted three years. This historic vineyard still produces fine wine, and it is also famous for having hosted recording sessions by the Cranberries, Pink Floyd and Sting. The couple married in the Chateau Miraval's chapel, and their children served as bridesmaids, ring bearers and ushers.
It only took a couple of weeks for news reports about an unusual prenuptial agreement executed by Pitt and Jolie started making headlines. As reported by the International Business Times in Australia, the premarital contract allegedly contains an ironclad clause designed to discourage adulterous behavior(3). Online news daily the Latin Post also reported on the prenuptial agreement, adding that the couple's combined net worth at this time is estimated to be around $425 million(4).
"Considering how highly expected their wedding has been, the privacy they were able to achieve is impressive," explains Rocco Beatrice, Managing Director of estate planning and wealth management firm Estate Street Partners, LLC. "These reports about a prenuptial agreement, however, are not so impressive. In fact, they are troubling."
Estate Street Partners, LLC operates UltraTrust.com, a website where individuals can learn about effective options to manage and protect their assets for their own convenience and the future benefit of their families. The staff of UltraTrust.com has reviewed the media reports on this fabulous wedding, and they are concerned about the way it was reportedly plan insofar as asset management.
This is how Mr. Beatrice sees the situation: "What we have here is a very successful couple with multiple business endeavors and considerable assets. That chateau in France is but one of their numerous real estate holdings; we can safely assume that there are investment accounts, royalty deposits, contracts that still generate revenue, endorsement deals, etc. They have been together for a few years, and in that time they have grown their family quite a bit. They have had plenty of time to plan not just their wedding but also the financial structure of their future life together. We are looking at the news reports, and it seems that there was more than a prenup involved."
Mr. Beatrice is referring to details reported by the Latin Post about a prenuptial clause that would allegedly grant full custody of the couple's six children to Jolie in the event that Pitt engages in adulterous behavior (4). Should the marriage be dissolved for any reason, they would get to keep their separate property and agree to turn over their marital assets to a trust that would benefit their children. The International Business Times mentions that the couple also executed wills that would leave most of their fortune to their children in addition to making monetary donations to orphanages in Cambodia, Ethiopia and Vietnam(3).
"Apparently, some estate planning took place before the wedding, and this is commendable since you never know about what life may have in store for you. The problem is that we are reading about prenups and wills, which are far from ideal for just about anyone, but in particular for Pitt and Jolie," explains Mr. Beatrice. "First of all, the alleged adultery provision is often called a 'lifestyle clause' that is very popular among the Hollywood glitterati, but they are often unenforceable in court and only manage to cause animosity. Here's what is interesting about these clauses: The family attorneys who draft them often remind their clients that such provisions will not go over well in court; alas, the couples decide what should be on their prenups in the end."
Mr. Beatrice expands on the above: "Should Pitt and Jolie ever find themselves in divorce court, and we hope that they never do, their prenuptial desire to split and walk away with their separate assets intact may not be honored by the court. What they think are separate assets and what the state law says may be completely different. If, for example, Jolie is still getting royalties and income from her Tomb Raider films, she may not be able to easily separate those movies from the marital assets. As such, prenups often end up invalidated or set aside. What our office would have recommended to Pitt and Jolie is for each to create individual irrevocable trusts to keep their assets truly separate before walking down the aisle. By doing so, they could have also planned their estates and set up distributions to their children when they leave us for that big movie studio in the sky."
About Estate Street Partners (UltraTrust.com):
For 30 years, Estate Street Partners has been helping clients protect assets from divorce and frivolous lawsuits while eliminating estate taxes and probate as well as ensuring superior Medicaid asset protection for both parents and children with their Premium UltraTrust® Irrevocable Trust. Call (888) 938-5872 to learn more.
#
1. cbsnews.com/news/brad-pitt-and-angelina-jolie-are-married/ 9/23/14
2. bigstory.ap.org/article/angelina-jolie-and-brad-pitt-were-married-saturday-france-says-spokesman-couple 9/23/14
3. au.ibtimes.com/articles/565990/20140911/brad-pitt-angelina-jolie-brangelina-prenuptial-agreement.htm#.VCTxq8ZiKdH 9/23/14
4. latinpost.com/articles/21492/20140914/brad-pitt-angelina-jolie-reportedly-add-cheating-clause-prenup.htm 9/23/14