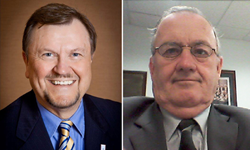 You served our country, now let us serve you.
Woodbury, MN (PRWEB) May 20, 2015
Don Fernstrom is an attorney with many years of valuable experience representing clients before the United States Court of Appeals for Veterans Claims, Board of Veterans Appeals and the U.S. Department of Veterans Affairs. He has argued before the Minnesota Supreme Court and at the highest tribunal in Washington, D.C. for the Federal Office of Workers' Compensation Claims. Don is a Vietnam veteran, having served with the U.S. Army's 1st Cavalry Division from 1966-67. His son served two tours in Iraq during Operation Iraqi Freedom. A life member of Crystal VFW Post 494, Don has dedicated his practice to representing veterans and their families in obtaining the benefits they have earned through their service.
John Johnson is a twenty-two year U.S. Army veteran and also served in Vietnam with the 199th Light Infantry Brigade. He continued his military career as a military police officer and gained extensive experience as an investigator and evidence custodian. After his military career he has had experience as an insurance claims investigator, including providing background investigations as part of corporate security operations.
"We are excited to bring the experience and expertise of these two extremely talented and committed individuals to our firm," said founding partner Mike Bradley. Both Fernstrom and Johnson are members of the National Organization of Veterans Advocates, Inc. They have expertise in disabilities related to Agent Orange, Gulf War syndrome, PTSD and Traumatic Brain Injuries. They join Operation Iraqi Freedom veteran, Tom Hagen, who started the firm's veterans' disability law practice in 2013. "You served our country, now let us serve you," said Hagen. Bradley, Hagen & Gullikson, LLC can be found on the web at bradleylawmn.com and on Bradley Hagen & Gullikson, LLC's Facebook page.
About Bradley Hagen & Gullikson, LLC
Bradley, Hagen and Gullikson, LLC is a well-respected legal and consulting firm that has a nationally recognized telecommunications, broadband and cable television practice. In addition to their telecommunications practice, their firm also represents individuals and businesses locally on a wide range of civil matters, including V.A. Benefits and Estate Planning. Their offices are located at 1976 Woodale Drive, Suite 3A, Woodbury, MN and at 111 2nd Avenue N.E., Waseca, MN. For more information, please call (651) 379-0900 or (507) 593-4098
PR Contact: Tiffani Tendell
ttendell(at)thenala(dot)com
805.650.6121, ext. 361