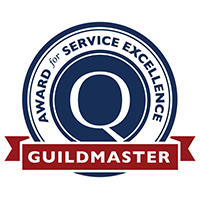 The client-surveying tools employed by Brad Van Weelden Co. are intended to capture instant feedback from homeowners while making it easier for them to share compliments or suggestions
Des Moines, Iowa (PRWEB) June 23, 2015
Brad Van Weelden Co., a general construction and exterior remodeling contractor in Des Moines, has been awarded a 2015 Guildmaster Award for exceptional customer service. GuildQuality, an independent customer satisfaction surveying company, has powered the Guildmaster Award since 2005 to celebrate service excellence in the building, remodeling, contracting, and home services professions.
Brad Van Weelden Co. was selected as one of the over 350 North American builders, remodelers, developers and contractors recognized by GuildQuality for their superior delivery of customer care. Over the past few months, GuildQuality reviewed numerous survey responses submitted by customers of Guildmaster candidates. In granting awards, GuildQuality considers two primary metrics for each candidate: the percentage of customers who would recommend and the percentage of customers who responded.
Brad Van Weelden Co., listed on GuildQuality's website as one of approximately 100 recipients that have been recognized with a Guildmaster Award for no fewer than three years in a row, achieved a recommendation rate of greater than 90 percent from its customers.
"The client-surveying tools employed by Brad Van Weelden Co. are intended to capture instant feedback from homeowners while making it easier for them to share compliments or suggestions," said Brad VanWeelden, the company's president. "This takes place as we stand ready to address any questions or concerns. Our team prides itself in offering a superior level of service, and Brad Van Weelden Co. is proud of the responses leading to our third consecutive Guildmaster Award."
For more on the 2015 Guildmaster Award, visit http://www.guildquality.com/guildmaster.
###
About Brad Van Weelden Co.
Brad Van Weelden Co. is a Des Moines, Iowa-based general contractor with 18 years of qualified experience in all aspects of the exterior home improvement industry. Recommendations and word-of-mouth reviews are at the heart of Brad Van Weelden Co., which utilizes best practices during the marketing and bidding processes while employing electronic client-surveying tools to ensure the highest level of customer satisfaction at the completion of every job. Brad Van Weelden Co. maintains trusted relationships with leading manufacturers and stays up to date on the latest trends in the modern installation of roofing systems, siding systems, windows, doors, decks, gutters and more. Learn more at http://www.bradvanweelden.com.
About GuildQuality
GuildQuality helps builders, remodelers, and contractors manage their most valuable asset - their reputation. Our members rely on our service to gather customer feedback, measure satisfaction and continuously improve their business. Supported by comprehensive reporting and marketing tools, GuildQuality helps its members stand out in a competitive market. For more information, visit http://www.guildquality.com.