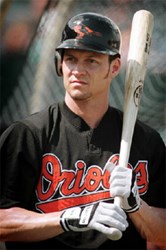 (PRWEB) September 12, 2013
Former Baltimore Orioles center fielder Brady Anderson will visit Georgetown in support of The Jefferson School on Wednesday, Sept. 25.
An autograph session will run from 4:30 p.m. to 6 p.m. at The Jefferson School, located at 22051 Wilson Road, Georgetown.
Community members are encouraged to bring their own items for Mr. Anderson to sign. A donation of $20 per signed item is requested with proceeds being used to promote fitness and healthy lifestyles in children through the renovation and expansion of The Jefferson School's outdoor nature trail.
The event is supported by Professional Physical Therapy & Sports Care.
"We are excited to have Brady Anderson coming to our school in support of fitness and healthy lifestyles of our children," said Connie Hendricks, Head of The Jefferson School. "Enhancing our.75 mile nature trail will enable our children to expand their adventures even further along the school's 43 wooded acres."
Mr. Anderson's major league career included the Orioles, Boston Red Sox, and Cleveland Indians.
As a member of the Orioles, Mr. Anderson in 1996 hit a record-setting 50 home runs for the team.
Another baseball great, Cal Ripken, Jr., referred to him as "the greatest leadoff hitter in Orioles baseball, and the best athlete I have ever played with."
Mr. Anderson is currently the Vice President of baseball operations for the Orioles.
The Jefferson School is a non-sectarian, independent day school. To learn about enrollment openings and more about the non-profit day school, contact Connie Hendricks at 856-3300 or visit the school website.
If your company is interested in finding out booking fees and availability for a Baseball Celebrity like Brady Anderson or other sports celebrities for an Advertising Campaign, Charity or Fundraising Event, Speaking Engagement or VIP Meet and Greet, call AthletePromotions at 1.888.246.7141 or fill out the booking form.