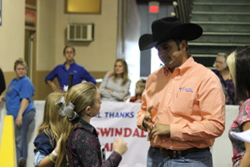 We are very excited about our breed back program.
Venus, FL (PRWEB) October 28, 2014
Moreno Ranches, a top breeder of registered Brahman cattle for sale, is proud to announce major upgrades to their 'breed back' program for registered Brahman heifers for sale. The 'breed back' program is an innovative system that gives Junior Brahman Breeders who have purchased a Brahman heifer the ability to leverage the superior genetics program of Moreno Ranches to 'breed back' the heifer, when the Brahman heifer is ready to be bred.
"We are very excited about our breed back program," explained Calvin Moreno, head of Moreno Ranches. "Supporting Juniors has always been a top priority for us, and the 'breed back' program gives a higher return-on-investment to those Juniors who purchase their registered Brahman heifers from us in the first place: they can breed them utilizing the vast variety of Brahman herd sires available at Moreno Ranches."
To learn more about the registered Brahman cattle for sale 'breed back' program, please visit http://www.morenoranches.com/education/juniors/breed-back-program/. There one can find a wealth of information on Brahman cattle, including contact information for the ranch itself.
Registered Brahman Cattle and the Breed Back Program: How it Works
Here's how the breed back program works. First, the Junior purchases a Brahman heifer from Moreno Ranches. The heifer is used for showing in the Brahman cattle show circuit, and because of the superior genetics of Moreno Ranches' Brahman cattle, many of these cattle do extremely well in competition. Next, when the heifer is of breeding age, the junior is able to breed back the heifer with the superior Brahman Herd Sire offering available at Moreno Ranches. In this way, the junior can get some additional financial benefit out of the heifer, and also start to develop his or her own herd of elite Brahman cattle. The Junior Brahman Breeder can also purchase replacement Brahman Heifers from the ranch that would be qualified for this program.
To enroll in the ranch's Brahman breed back program, any customer must contact them at time of sale and get the necessary paperwork. Producers must enroll within a 120 day window of when they want their heifers pregnant, and Moreno Ranches will put forth their best effort to breed all females within 180 days. (Note: terms and conditions are subject to change without notice, so please contact Moreno Ranches for specific details).
About Moreno Ranches
Moreno Ranches is a top producer of Brahman cattle for sale. Customers come to the company for genetically superior Brahman bulls for sale and Brahman semen (seed stock) as well as Brahman embryos. The company produces both Brahman heifers and calves for sale, including for use as show cattle or to produce Brahman F1 hybrids. Visit the company's website to browse stock. The company is a trusted source of Brahman cattle whether a buyer is in Florida, Texas, or Louisiana - Latin America, or anywhere in the world.
Web. http://www.morenoranches.com/
Tel. 305-218-1238