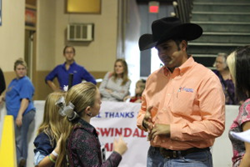 We offer two programs to our Juniors. One is to use our 'Breed Back' program, and the second is our 'Sell Back' program. The 'Sell Back' program allows a Junior to sell his or her Brahman heifer back to the ranch after the heifer has ended its career as a
(PRWEB) October 30, 2014
Moreno Ranches, a top breeder of registered Brahman heifers for sale, is proud to announce an additional option for Juniors who have purchased Brahman heifers from Moreno Ranches: its 'Sell Back' program. Moreno Ranches is, of course, a top supporter of Junior Brahman breeders.
"We offer two programs to our Juniors," explained Kelvin Moreno. "One is to use our 'Breed Back' program, and the second is our 'Sell Back' program. The 'Sell Back' program allows a Junior to sell his or her Brahman heifer back to the ranch after the heifer has ended its career as a show heifer."
To learn more about the Braman 'Sell Back' program, and registered Braman heifers for sale, please visit http://www.morenoranches.com/education/Juniors/sell-back-program/. There, one can find not only information on registered Brahman heifers, but also information on the 'Sell Back' program, including contact details.
Differences between the Sell Back and Breed Back Programs
While related, the two programs are different. The 'Breed Back' program allows a Junior to use the genetic sources available at Moreno Ranches to start and develop their Brahman cattle breeding program. This creates an opportunity for Juniors that are starting their small herds to get their Brahman heifers bred back at no additional cost, and without having to make an additional investment in Brahman bulls or Brahman semen. The 'Sell Back' program in contrast, is essentially a financial program. The Junior is able to simply sell his Brahman heifer through one of Moreno Ranches semi-annual production sales. The Junior can use the financial remuneration for whatever purpose he or she desires: usually to fund another purchase of a Brahman heifer, or sometimes to fund a college education or other educational effort.
To enroll in the ranch's Brahman 'Sell Back' program, Brahman females that qualify for this program must carry the M check brand, and be originally purchased and shown by a Junior in the Junior show circuit. The Registered Brahman Heifers For Sale must be 2-4 years in age and must be safe in calf or have a calf at side at the time of sale; no exceptions will be made. (Note: terms and conditions are subject to change without notice, so please contact Moreno Ranches for specific details).
About Moreno Ranches
Moreno Ranches is a top producer of Brahman cattle for sale. Customers come to the company for genetically superior Brahman bulls for sale and Brahman semen (seed stock) as well as Brahman embryos. The company produces both Brahman heifers and calves for sale, including for use as show cattle or to produce Brahman F1 hybrids. Visit the company's website to browse stock. The company is a trusted source of Brahman cattle whether a buyer is in Florida, Texas, or Louisiana - Latin America, or anywhere in the world.
Web. http://www.morenoranches.com/
Tel. 305-218-1238