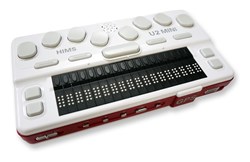 Assistive technology enables me to work and live on an equal footing with colleagues, family members and friends.
Austin, TX (PRWEB) November 07, 2013
HIMS Inc. this week announced the release of Braille Sense U2 MINI, the next generation of their very popular line of notetakers for the blind. Devices like this are similar to a tablet except that they use a Braille keyboard and, in this case, an 18-cell refreshable Braille display instead of a touch screen.
The all-new Braille Sense U2 MINI features more robust hardware and now also gives users access to several mainstream applications that many devices of this type do not include. Some of the most popular proprietary and exclusive applications include the HIMS Excel™ Viewer, YouTube™ and Dropbox™ applications, which are now included as part of HIMS Sense firmware version 8.0.
Braille Sense user, Dr. Robert Carter of Texas A&M University shares: "I consider assistive technology to be the leveler of the playing field… The power and flexibility of these devices are amazing. Assistive technology enables me to work and live on an equal footing with colleagues, family members and friends."
HIMS President James McCarthy, who is visually impaired himself, adds:, "It's been really exciting to see customers using products like Braille Sense U2, Braille Sense U2 QWERTY, Braille Sense U2 MINI and Braille EDGE 40 to excel in positions ranging all the way from telephone support specialists on up to highly specialized legal and medical professions. Seeing the difference that assistive technology has made in the lives of so many with vision impairments, especially in the last decade, has been truly amazing."
In addition to the new functional capabilities, Braille Sense U2 MINI also boasts greater power and productivity with its improved 1 GHz Mobile CPU, 32 GB storage capacity and enhanced features such as extended battery run time, improved GPS receiver sensitivity and the addition of a vibration motor. U2 MINI also offers more stability than other notetakers, with an optimized Windows-based operating system with a Windows-like user interface.
In addition, Braille Sense U2 MINI is one of the most competitively priced notetakers for the blind, especially considering its advanced capabilities, priced at only $3,995. Units will begin shipping later this month.
Braille Sense U2 MINI is also a qualified technology for deaf blind individuals who are serviced by the FCC's National Deaf Blind Equipment Distribution Program (NDBEDP). The NDPEDP, which was launched in July 2012, helps low income individuals of all ages, who have both vision impairment and hearing loss, to acquire life-changing communications technology.
To learn more about the HIMS products for blindness and low vision, http://www.hims-inc.com or call 888-520-4467 to speak to a product specialist.
HIMS Inc. is an Austin, Texas based company that specializes in technology products (assistive technology) for people who are blind or have low vision. They are a subsidiary of HIMS International, who will next year celebrate 15 years of creating superior products for those with vision impairments all across the globe.