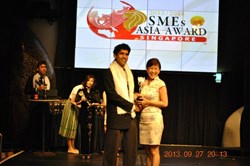 The RELIABLE Award is another affirmation of the guiding principles at Genius Mind Academy over the last 3 years.
Singapore (PRWEB) September 29, 2013
Started in 2010, Genius Mind Academy was one of the first brain training education centre in Singapore for kids between 6 and 12. Their unique "midbrain activation" uses special proprietary sound waves technology to balance the human right and left brain.
In 2011, just about a year into operation, Mr Yao Shih Lien, Director of Genius Mind Academy got a letter nominating Genius Mind Academy for SME1 Asia Awards 2011 in the Emerging SMEs category. The company accepted the nomination and went on to be awarded as one of the Top 5 winners of that category..
On 27 Sep 2013, Genius Mind Academy (GMA), once again was awarded SMEs ASIA AWARD 2013 / 2014, under the RELIABLE SME AWARD category by a separate organiser. This award is recognise successful Small and Medium-sized Enterprises (SMEs) in ASIA who are established for more than 2 years, van guarding in the front line of innovation, making an impact in Singapore's business community and holds notable social responsibilities.
Mr Yao commented, "I am very happy that our continual effort to deliver quality programme to our parents and their children has been recognised yet again. The RELIABLE Award is another affirmation of the guiding principles at GMA over the last 3 years."
For the first 2 years, GMA focused on a two-day intensive workshop, also known as midbrain activation workshop, to help children unleash their potential and impacting various areas in their life.
Many parents joined the 90 minutes introductory program, and have asked the Master Trainer, Jeanni Soh, questions like, "How to build confidence in my kids & how to improve memory so they can do their school work better?"
Almost all the time, Jeanni would encourage the parents to enroll their child into the 2 days Super Sensory Development Workshop where she had experienced over 2800 children life transform after 2 days.
Shirley Tan, mother of Natalie, age 11, commented that, "Natalie became a lot more confidence, focus and has shown more interest in anything that she wants to accomplish after the 2 days workshop."
Starting early 2013, Genius Mind Academy had started a new program, The Super Sensory Development Workshop for Adults.
Coupled with GMA proprietary proven sound-technology, with fun-filled, team activities and games catered for adults and parents, anyone who goes through these 2 days workshop reported results very similar to their children.
Over the 2 days Super Sensory Development Workshop, participants are expected to have fun… and lots of fun. Many activities are specially designed so to let the participants to re-live their childhood. Only through fun and mindset shift within the 2 days, the participants' brain is ready for the brain training using the special sound technology only exclusive to GMA in Singapore.
Kenny Koh, business owner, says that, "Tactfulness and Anger Management become amazingly easy and so natural. I now LOVE MYSELF even more because "I CAN BE WHAT I WANT TO BE".
On a special phone conversation, Mr Yao says that, "it's very possible for anyone to have their midbrain activated, and get the same results as children.
The person going through the 2 days workshop must be open-minded, and willing to participate. Only with a receptive mind, the sound can get past the conscious mind to do its job.
As we grow up, we have many limiting beliefs from our environments; teachers, parents, friends and etc, and all these limiting beliefs stop us from getting the best results from the 2 days workshop".
That is why GMA encourages parents whose kids have experience benefits from the children program to enroll into the adult workshop as well. There are many non-parents who just wish to improve themselves enrolled into the adult workshop too.
Pauline Ong, lawyer, and mother of 2 kids, says this after attending the 2 days adult workshop, "I feel calmer and more motivated to do things which I have procrastinated for a long time."
Another parent, Serene Mah, whose daughter attended the children program, and enroll the adult program thinking how to improve memory, and says that memory have improved, and she can sense her mother coming to visit us 5 minutes before she arrived.
With the success of this adult program, Genius Mind Academy has plans to include the youth workshop, using the similar model.
The company is expected to expand leaps and bounds now that they had open up the age limit from 6 to 12 previously to 6 to 70 years old. Many more people can benefit from the unique 2 days whole brain training workshop.
Genius Mind Academy (GMA) runs an enriching workshop aimed at fostering and nurturing the multiple intelligence of a child. At GMA, we encourage a desire for learning, promote emotional and intellectual liveliness and empower children with the confidence to achieve their aspirations. Our aim is to help children develop extraordinary capabilities by drawing on the hidden human possibilities, enhance well-balanced development of the body and mind, nurture sharp sensitivity and instill rich creativity. For more information, please visit: http://www.GeniusMindAcademy.com.sg