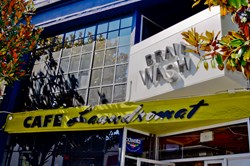 The customers are out of here 20-25 minutes sooner than they used to be, so they like that.
San Francisco, CA (PRWEB) October 15, 2013
Brain Wash, an iconic Laundromat and Café and popular community hangout located in San Francisco, opened in 1989. Recently, they decided to upgrade their coin op laundry equipment. After evaluating the competition, Brain Wash owner Jeffrey Zalles worked with Western State Design's Bryan Maxwell to purchase new Dexter coin op laundry equipment. As a laundry famous for its unique perks as well as appearances on film and TV, the Brain Wash Café and Laundromat added Dexter equipment to provide more value to their customers.
The decision to install new Dexter coin op equipment was easy for Jeffrey Zalles. When researching his options, he saw that many other Laundromats used Dexter equipment. He also spoke to people he trusted including his long time mechanic. "It had a major bearing on my decision because I don't want machines that are going to break down in a few years," Zalles said. Zalles established a solid relationship with salesman Bryan Maxwell of Western State Design, who laid out all the benefits of Dexter coin-op laundry.
Since installing the new Dexter equipment, Zalles has noticed several positive changes at Brain Wash. He reported to Maxwell that the customers truly love the new, faster machines. Instead of a typical wash cycle of 35 to 40 minutes, the Dexter machines finish a wash closer to 23 minutes. With the efficient Dexter machines, Zalles says usage and revenue have increased. Zalles further said that utility costs have remained flat, indicating the energy efficiency of the Dexter equipment. Additionally, new customers are visiting the Brain Wash from farther away due to the quality the Dexter equipment offers.
"There are people who like to hang out here, but there are also people who just come to do their laundry and want to leave. So for those people they love the faster machines, because not only is the wash cycle faster -- now the dry times are shorter. The customers are out of here 20-25 minutes sooner than they used to be, so they like that," Zalles said.
Brain Wash is an iconic Laundromat, and it was once declared the most unusual internet café in the world by Yahoo. Zalles says the laundry has a big international following, and it's easy for anyone to check out the happenings of the Café Laundromat with its live webcams on its website. Customers can get their laundry done quickly or hang around to enjoy the other offerings of Brain Wash.
With 37 years experience as a premier, full-service distributor to the coin-op laundry industry, Western State Design has grown to become one of the largest coin laundry equipment distributors in the world. Western State Design is proud to be a Dexter Authorized Distributor, and has been recognized as No. 1 Dexter Distributor Worldwide in 2009, 2010, 2011 and 2012. Dexter Laundry located in Fairfield, Iowa, is an employee owned leading manufacturer of commercial laundry equipment. All equipment is manufactured in Iowa. Visit WSD online at http://www.westernstatedesign.com or call toll free at 1-800-633-7153.