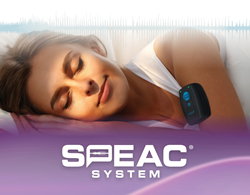 "The SPEAC System can be particularly useful to confirm the diagnosis in patients with infrequent events that are suspected to be seizures. Having objective data to interpret an event can help obtain the right diagnosis and therapeutic choices."
SAN ANTONIO (PRWEB) June 05, 2019
Brain Sentinel, Inc., manufacturer of the first FDA-cleared portable seizure monitoring and alerting technology utilizing surface electromyography (sEMG), announced that its SPEAC® System has received a new 510(k) clearance of expanded indications from the U.S. Food and Drug Administration (FDA). The SPEAC System is the first diagnostic platform that continuously records, analyzes, stores, and reports physiologic data for review by a physician to characterize seizure events. The System can now provide even more objective sEMG data for physicians to consider.
"Recorded sEMG of the muscle signal is very data-rich," commented Dr. Selim Benbadis, Professor of Neurology and Division Director, Epilepsy and EEG at the University of South Florida. "sEMG is increasingly being adopted by physicians in patient cases where EEG-video monitoring is inconclusive or impractical. The SPEAC System can be particularly useful to confirm the diagnosis in patients with infrequent events that are suspected to be generalized tonic clonic seizures. Having objective data to interpret an event can help obtain the right diagnosis and therapeutic choices."
The SPEAC System, which first received FDA De Novo clearance in February 2017, is becoming the industry-standard portable diagnostic platform for people living with epilepsy. The latest SPEAC System release offers physician-prescribed customizable options ensuring continuous event recording over days, weeks, or months. Using the SPEAC-recorded physiologic sEMG and audio data, physicians may quantify and qualify the types of seizure events their patients experience.
Approximately one-third of people living with seizures report their anti-seizure medication (ASM) is not adequately controlling their episodes. Knowing the seizure type and classification of seizure events is important to the physician's ability to make appropriate treatment plan changes. In most cases, the clinician relies on seizure diaries containing eyewitness accounts of events to determine seizure type and classification. Published research, however, demonstrates seizure diaries are unreliable sources of subjective data. For example, inaccuracy exists when witnesses describe seizures, and this may lead to errors in diagnosis and subsequent treatment (Gunn, 2001). Further, seizure diaries do not provide clinicians with valid information, per research suggesting that patients fail to document 85% of all seizures that happen during sleep (Hoppe, 2017).
Innovations like the SPEAC System are changing the landscape of seizure care. Physicians no longer must rely solely on patient and caregiver reporting of events. Using the SPEAC System, physicians can examine physiologic sEMG and audio data to quantify and qualify, or otherwise characterize a seizure and its phases (e.g. tonic or clonic phases)(Cardenas, 2018). The SPEAC System records quantifiable data on seizure events including event duration, phase duration, event frequency, and the exact time of day an event occurs. Published literature suggests that when the duration of seizure phases is known, a clinician can assess the risk of post-ictal generalized EEG suppression, a dangerous condition following some generalized tonic-clonic (GTC) seizures (Freitas, 2013; Tao, 2013; Lhatoo, 2010). The sEMG signal itself and the relative strength of various frequencies in an event has been shown to help physicians qualify or otherwise classify seizure events (e.g. tonic-clonic event, tonic-only event, clonic-only event, etc.) (Beniczky, 2014; Conradsen, 2011; Hamer, 2003).
In addition, the SPEAC System's sEMG-based seizure detection algorithm makes it the fastest solution of its type on the market, alarming on average 5.34 seconds from the event onset. It is also the only customizable technology, allowing for specific thresholds adapted to each patient to reduce the false positive rate. When prescribed by a physician, the alarms can be disabled to configure the SPEAC System to serve strictly as a tool for the collection of physiological, sEMG data to aid in the diagnostic characterization of the patient's events.
"We are excited the FDA has expanded the indications for use of the SPEAC System to provide clinicians with a tool to help better manage their patient's seizures," said Chris Fashek, CEO, Brain Sentinel, Inc. "Physicians haven't been able to accurately quantify and qualify seizure events without costly in-patient stays in special epilepsy monitoring units, or outpatient video EEG equipment in the patient's home. Both options typically provide only a few days of data. Now, the portability of the SPEAC System enables clinicians to monitor and record events over days, weeks, or months, vastly expanding their understanding of their patient's events. The objective data reported by the SPEAC System may help a physician make decisions to improve seizure control."
"We are excited to see continued advancement in the way epilepsy and seizures are diagnosed and treated," said Philip M. Gattone, M.Ed., president and CEO of the Epilepsy Foundation. "The recent FDA clearance of the SPEAC System represents an important milestone for our community bringing to market an innovative diagnostic tool for monitoring seizures and enhancing treatment for people living with convulsive seizures."
About the SPEAC® System
The Sensing, Portable sEMG, Analysis and Characterization (SPEAC) System is an FDA-cleared diagnostic monitoring and recording system for people living with seizure disorders. The SPEAC System is covered by one or more of the following U.S. and foreign patents: AU2012278966, JP5529342B2, US8983591, US9186105, US9439595 and US9439596. SPEAC System is a registered trademark of Brain Sentinel, Inc. For more information, visit https://SPEACSystem.com.
About Brain Sentinel
Brain Sentinel, Inc. is a privately held company based in San Antonio, Texas, pioneering the use of surface electromyography (sEMG) technology to help improve the lives of people living with epilepsy. Brain Sentinel manufactures robust diagnostic monitoring platforms for seizures. Driven by a passion to help patients, caregivers, and clinicians, the company collaborates with industry-renowned epileptologists and clinical neurophysiologists to address unmet healthcare needs, improve patient outcomes, and enhance lives. For more information visit https://BrainSentinel.com.
If you would like more information about this topic, please call Jami Jackson at (210) 960 - 3594, or email Jami.Jackson(at)BrainSentinel(dot)com.