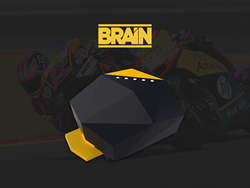 We're looking for individuals to build upon and learn about BRAIN One's unique embedded systems and data processing.
Trento, Italy (PRWEB) March 24, 2016
Brainsomeness has successfully raised over €55K on Kickstarter for their newest gadget, BRAIN One. This innovative device is a portable, smart telemetry sensor for motorsports and motorcyclists. BRAIN One tracks performance, provides feedback in real-time and even stores performance data to share with friends. In addition to its list of features, the team at Brainsomeness has integrated open API software for programmers.
BRAIN One's open API allows users to develop their own application for any action sport. The Brainsomeness team is currently looking for developers and data scientists to build on the device's existing platform and extend the experience to new action sports.
"While BRAIN One was initially created for motorsports, our team wanted to ensure that BRAIN One could be used for virtually any action sport athlete," Brainsomeness founder, Simone Grillo, said. "That's why we're looking for individuals to build upon and learn about BRAIN One's unique embedded systems and data processing."
Developers interested in BRAIN One have a special reward available to them on Kickstarter. For €999, developers will immediately receive a BRAIN One 3D printed prototype and a free online training held by the Brainsomeness CTO and development team. Each BRAIN One contains a range of sensors, including GPS+Glonass, thermometer, microphone, barometer, 9-axis inertial sensor and more that measure all aspects of a user's extreme sport performance.
Developers who back this BRAIN One reward will also receive exclusive access to the team's software development kit before anyone else in order to develop an application for other action sports. Because BRAIN One is both waterproof and shockproof, the device can be applied towards any action sport, including snowboarding, watersports, biking and more.
During the development process, these particular backers will work closely with the Brainsomeness team to collect any advice or feedback from the resources and experts provided. In addition, one developer will be chosen to develop the first BRAIN POWERED application. Developers are encouraged to take this opportunity to launch a startup connecting their app with the BRAIN One device.
BRAIN One's smart software measures trajectory, cornering, acceleration, braking, G-force, speed, bending angles, lap time and elevation differences. With BRAIN One, athletes can quantify their performance with the push of a button at an affordable price. This special reward for developers and data scientists will be available for a limited time. For more information, visit bit.ly/BrainOneKS.
ABOUT BRAIN
BRAIN was founded by Simone Grillo, in Italy, with a mission of developing the first smart telemetry for extreme and action sports. BRAIN's goal is to allow everyone who participates in actions sports to track every single detail of a session, analyze performance and share the adrenaline. Our BRAIN, your heart. To learn more, visit http://www.brainsomeness.com/.