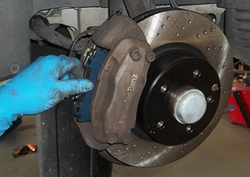 Linear Automotive offers courtesy brake inspection for anyone looking for affordable brake repair service in the cities around the North Dallas area.
Plano, TX (PRWEB) February 15, 2014
One visit is all it takes for anyone to quickly realize why this repair shop stands out from the rest. Linear Automotive does not charge for brake inspections. The shop provides the best certified auto repair mechanics and brake services for cities around the North Dallas area. Besides offering affordable services in a state of the art facility for all makes and models, the staff are highly experienced and completely devoted to each customers satisfaction which is why this shop has been so highly rated. View the website at http://www.linearautomotive.com.
Some of the mechanical service bays were recently upgraded and set up to handle inspections and brake repair service more quickly in order to meet the increased demand. Additional certified mechanics were also added in order to provide a quick turnaround time for automotive repairs and services.
Anyone needing a brake inspection in Plano, Allen, McKinney, Lucas, or Richardson will be pleased to find out that Linear Automotive does offer this. Regular inspections and brake pad replacement are part of factory scheduled maintenance which is required for pretty much all makes and models these days. When pads get too thin the rotor can overheat causing warping which requires the rotor to then get replaced.
Rotor replacement also becomes necessary when brake pads are worn down to the metal and dig deep grooves in the rotor which can't be turned out by a lathe. Brake repair service gets much more expensive when brake pads are not maintained properly which is why it ends up to be less expensive to get regular inspections. Squeaking, squealing, or grinding noise around the wheels is usually a sign that the brakes need some attention.
When looking for quality affordable brake pads in Plano, Lucas, Richardson, Allen, or McKinney be sure to check out Linear Automotive. The certified repair mechanics are very experienced with all makes and models working with state of the art tools and equipment. During brake pad replacement the rotor and caliper are carefully inspected for wear and functionality. The brake lines are checked for leaks as well as the master cylinder. Brake fluid should be flushed and changed every so often. A brake fluid flush ensures that the system works optimally when stopping.
Modern vehicles have sensors and ABS ( Anti-Lock Brake Systems ) which help stopping the vehicle and also need inspection from time to time. Usually when a problem arises with the brakes or ABS, a light will illuminate on the dashboard. This is due to a bad sensor. Sometimes a light may even come on advising that the sensor itself is not working correctly. Linear Automotive has advanced computers for diagnostics which allows the vehicle to "communicate" with a mechanic during the brake repair process. Although computers are a great tool for brake maintenance and repair, nothing beats an experienced mechanic trained to properly inspect and maintenance a vehicles brake systems.
Power brake repair can become required if the system is not working properly when the brake pedal is applied. Problems could possibly be caused by the brake booster which is located directly behind the master cylinder on most vehicles. It uses a vacuum system so that when the pedal is stepped on it multiplies the force which is why "power brakes" can exist. Linear Automotive has experienced technicians that can repair or replace any part on the brake system to ensure the vehicle is stopping properly.
Foreign import, European, German, and Asian brake repair service is available for all years and models. For courtesy inspections & superior brake service in Plano, Richardson, Lucas, Allen, or McKinney, Texas visit Linear Automotive at http://www.linearautomotive.com.