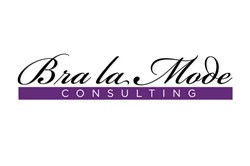 From concept to consumer, Moira collaborates with her clients, evaluates their individual needs and formulates a strategic plan to execute their initiatives.
New York, NY (PRWEB) July 31, 2013
Bra La Mode Consulting, a unique, full-service consulting company for independent lingerie designers, start-up companies and other small, wholesale Intimate Apparel businesses, launched today.
Founded by industry veteran, Moira Nelson, Bra La Mode works to assist brands and companies that are new to the lingerie industry develop their business, refine their vision and successfully launch.
"Moira is a seasoned Intimate Apparel professional with an entrepreneurial spirit and a passion for developing brands and businesses," said Luis Paredes, publisher of the B2B trade publication, The Lingerie Journal. "She marries her creative eye with a strong business sense to assist her clients in realizing their potential, and ultimately empowers them to launch their intimate apparel businesses."
From concept to consumer, Moira collaborates with her clients, evaluates their individual needs and formulates a strategic plan to execute their initiatives. Acting as a "personal concierge," she guides brands through Strategic Business Development, Brand Identity and Target Consumer Identification, Creative Product Design, Product Development and Merchandising, Technical Product Design, Development and Fit, Pre-Production & Production, Global Sourcing and Manufacturing, as well as Innovative Sales, Marketing & PR Strategies (including Social Media Marketing.)
Of her consulting process, Moira says, "Some clients approach me in the concept stage. We work together to establish a solid business plan and budget; we focus on brand identity, define the target consumer, determine key differentiators, create a marketing strategy, and then move forward with a clear plan of action. From concept to consumer, I walk my clients through product development, pre-production and production, including sourcing of materials....all the way through the launch of their brand or business. Others reach out to me after they've launched. We evaluate their current business to determine weaknesses and missing links. Is their marketing strategy in sync with their brand identity? Do they have a clearly defined target consumer or are they still trying to target a base of consumers that is too broad? How can we tighten up their strategy to achieve success?"
And concludes, "I take great pleasure in watching my clients' businesses evolve and grow. Each client is different. With a one-on-one approach, I devise a strategic plan tailored specifically to each brand's individual needs and implement key initiatives to execute their objectives."
Moira has a thorough understanding of all facets of the Intimates market. She has developed (and continues to nurture) numerous relationships and has myriad resources as a result of working in the wholesale Intimate Apparel industry for well over a decade. Leveraging her resources, Moira works in collaboration with her clients to empower them to take their brand or business to the next level. Having worked for several well-respected, privately held, wholesale Intimate Apparel companies, Moira has had the opportunity to work in virtually all aspects of the business. Her experience includes new business development, sales, marketing and PR, concept, design, product development, merchandising, brand development and branding, sourcing, quality control, pre-production and production.
Throughout her career, she has managed business in all tiers of the retail market including mass market retailers, off-price chains, national chains, national specialty stores, mid-tier and specialty department stores as well as individually owned specialty stores and boutiques. Moira has managed private label brand business, in-house brands, national brands, emerging brands, as well as licensed brands in various categories including foundations, daywear, loungewear, sleepwear, shapewear and swimwear. Within these categories, she has experience working with core basic ("replenishment") and fashion ("seasonal") product in Junior, Young Contemporary, Modern Missy, Missy and Traditional styling in average figure and full figure size ranges.
Moira stays apprised of worldwide business trends in addition to intimate apparel market news/industry trends. She shops all tiers of the market on a regular basis to maintain her knowledge of each retailer's business model, new product offerings, innovative marketing strategies, brand identity, assortments and merchandising methods, retail price points, target demographics, etc. And she has traveled domestically and internationally to attend world-renowned Intimate Apparel trade fairs such as Mode City and Interfiliere.
In addition to Bra La Mode Consulting, Moira is co-founder of The Lingerie Alliance, an online collaborative community of professionals in the intimate apparel industry and related fields, and is a member of the Underfashion Club, the Intimate Apparel Square Club and Independent Lingerie Professionals.